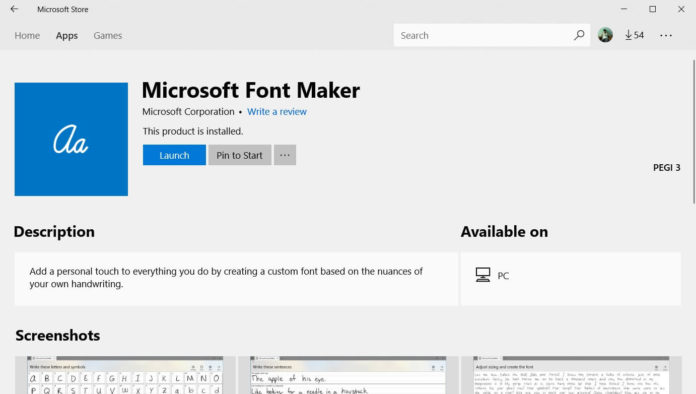 Microsoft today announced that they have pushed out the new Font Maker app for Windows 10 users in the Microsoft Store. The app is available for download from the Microsoft Store.
The Font Maker app, as the name suggests, lets users to create their own fonts. It lets users to design their own fonts with the help of each letter and symbol before configuring it in Windows 10.
Microsoft which released a new Windows 10 Build 17704 yesterday announced improvements to the Font Maker app. The app also brings with it support for pens which means that users will be able to use the Surface Pen to sketch out any special font before putting it to use in Windows 10.
The app allows users to create and use a new font in Windows 10 apart from the default fonts which are already available for users. Microsoft had released the app in the Microsoft Store on March 3 and has been available since then for download.
"With the Microsoft Font Maker app you can use your pen to create a custom font based on the nuances of your own handwriting," Microsoft's Windows Insider program chief Dona Sarkar said in a blog post.
However we would like to inform our users that the Font app will be available for download only for users who have installed Windows 10 Fall Creators Update and above.
This would mean that any older versions prior to the Fall Creators Update would not be able to download or access the application from the Microsoft Store.
Microsoft has already brought some pen related features like writing and drawing to its Outlook Mail and Calendar application in the previous updates and we expect Microsoft to bring more improvements to the Font Maker app in the coming months.
The latest Windows 10 preview build comes with some other major changes as well. For example Microsoft Edge comes with a new and improved user-friendly design.