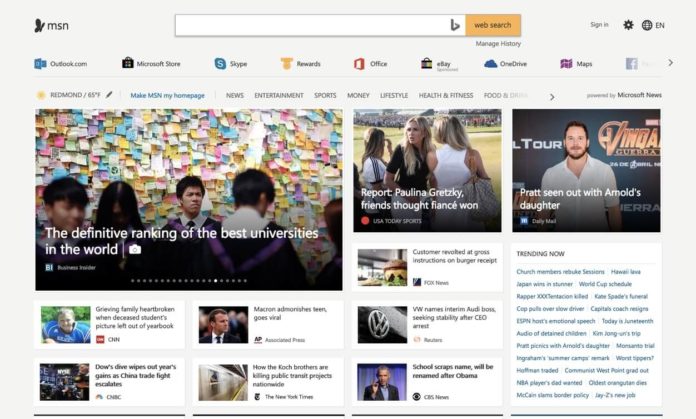 Microsoft's MSN portal is on the internet since 1995. The number of users who actually access the website is slowly increasing in the last years, and the Redmond-based tech giant continues to invest in the news business.
Microsoft today in a blog post announced that its news engine will be rebranded as Microsoft News on all platforms. However, Microsoft is not ditching the MSN News brand.
Microsoft News only represents the company's news engine.
Microsoft's news engine powers the news section on Outlook, Edge browser, News app in Windows 10 devices, MSN.com and the redesigned Microsoft News app for iOS and Android.
"Microsoft News represents the ways we keep people informed across the web, phone and PC, using our long-tested approach of curating news via publishing partnerships, human editors, and AI," Microsoft said in a blog post.
"With that goal in mind, we're always assessing our network of partners to ensure that we provide the most diverse, credible and well-rounded content available," writes Rob Bennett, Editor in Chief, Microsoft News.
Microsoft has been in the news business for more than two decades. The Redmond-based tech giant Microsoft appears to be fully committed to the news business, and the company also rolls out new features and designs for the MSN News.
Microsoft's announcement also suggests that the portal is very likely to remain the default homepage in Windows 10's default Edge browser.
The aim of Microsoft News is to keep people up-to-date, and the news engine is powered by the software giant's tech that curates news via publishing partners. Microsoft is working with the reliable news outlets like USA Today, The New York Times, Fox News, The Washington Post and more.
The apps powered by Microsoft News will aggregate the best news and deliver it for free on your devices, like Android and iOS.
MSN continues to be part of Microsoft's long-term plans, and the chances are that the service will remain up-to-date on all platforms.
MSN News is being rebranded as Microsoft News on Android and iOS. In addition, the update also revamps the look and feel of the news app.