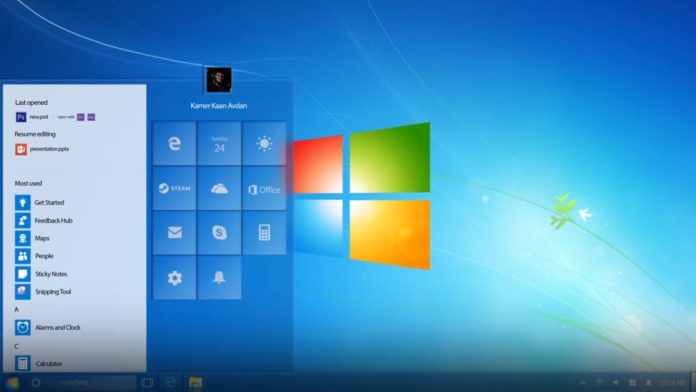 It has been almost 3 years since Microsoft launched Windows 10. Microsoft still hasn't been able to reach their goal of 1 Billion devices running Windows 10. One of the main reasons why Windows 10 finds it hard to reach the goal is Windows 7. Yes, Windows 7 which was released almost 9 years ago still has a higher user base than Windows 10 and that might still be the reason why Windows 10 finds it hard to reach its goal.
Windows 10 might be the most feature packed and secure version of Windows but there is something about Windows 7 that reminds us about how things used to be. Windows 7 has a simple interface which had nothing fancy like with Windows 10's Fluent Design scheme but it always got the job done.
A YouTuber who goes by the name Avdan aims to take us back to memory lane with a concept video of what Windows 7 would have looked like if it launched today.
One of the best things about the concept video is that the creator has managed to combine a lot of modern features and interface elements that Windows 10 has with the clean and clutter-free interface of Windows 7. Taking a look at this concept really makes us wonder how much we love a simple, beautiful and straight-forward interface.
The video begins by showing the Task Manager and then the Start menu which looks way more beautiful than the real Windows 7. Then it shows apps like Weather which also has Fluent design elements. The Action Centre also looks neat.
The concept also features Windows 7 with a full dark mode which makes the entire interface darker and looks way cooler at the same time. It also has support for Dynamic wallpaper.
Windows 10 is miles better in its UI, visuals and options. It's worth noting that this is just a concept video and it's not a theme that you can install on your PC.
Current market share shows Windows 7 at 41.79% and Windows 10 at 34.74%. These values itself suggest how people loved Windows 7. It is all well and good but if you want the most secure and feature-packed Windows out there, you would have to use Windows 10. Also, keep in mind that support for Windows 7 will end on January of 2020.