Microsoft has made it a priority to make Windows 10 feel and look more modern, and as part of this strategy, the tiniest parts of the operating system have received updates.
The context menu, that appears when the user would right-click mouse anywhere inside the OS, is getting a new update. It appears that with the next update codenamed Redstone 5, Microsoft is bringing the new modern edit controls to the context menu.
With Windows 10 Build 17692 or newer, you can access the new content. It works in apps such as Settings and Cortana. The new edit controls allow you to undo, select all and cut.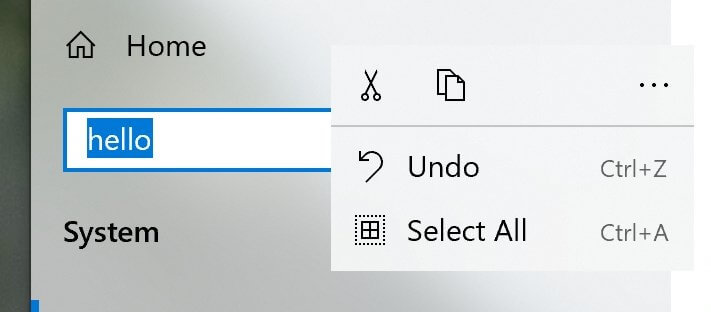 At Build 2018 developer conference, Microsoft announced the context menu with Fluent Design and other refinements. Both Fluent Design and the new context menu are expected to evolve before the public release of Windows 10 Redstone 5 in October.
Microsoft is betting big on Fluent Design and the strategy will allow the company to completely overhaul the interface of Windows 10, and it's likely that certain elements, like the reveal effect, will also expand to the other parts of the OS at some point in the future.
In a blog post, Microsoft explains that the new Acrylic material is being used in light-dismiss XAML controls and like flyouts. Windows 10 Redstone 5 will also bring Fluent Design to AutoSuggestBox dropdowns, ComboBox dropdowns, Date and TimePicker flyouts and MediaTransportControl flyouts/overflows.
In other news, Windows 10 Build 17692 (RS5) also comes with improved Storage Sense that would automatically make any downloaded Files On-Demand online-only if you haven't used them in a while. You'll be able to access the new Storage Sense from the  Settings > System > Storage.
With Redstone 5, Microsoft is expected to focus on the design aspects of Windows 10, trying to make the OS look modern. The aforementioned changes should be part of the Redstone 5 update and the other refinements are likely to be implemented as well.
It's worth mentioning that the new and improved Fluent Design is a work in progress and it could evolve substantially before Microsoft makes it available to the general public. Redstone 5, the next update that would be launching for Windows 10 later this year.