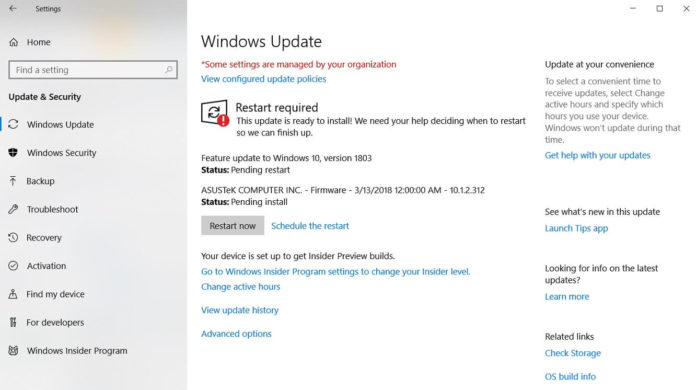 Microsoft today started rolling out a new patch to fix issues with Windows Update. The patch KB4056254 is supposed to fix the update issues on Windows 10 version 1703 (Creators Update) and older, including version 1507 (original Windows 10 RTM). It makes changes to the Windows Update service.
It's worth mentioning that Microsoft released a similar patch earlier this year. If you have ever faced any weird problems with Windows Update, you might want to install the new patch on your system, but keep in mind that the update is offered to select devices only, and there's no way to manually install it.
The update called Windows 10 update facilitation service (KB4056254) is aimed at some systems that previously experienced issues and prevented an upgrade.
"This update includes files and resources to address issues affecting background update processes in the Windows Update servicing stack. Maintaining Window Update service health and performance helps ensure that quality updates are installed seamlessly on your device and help to improve the reliability and security of devices running Windows 10," Microsoft explains on the KB page linked above," Microsoft said in a support page.
Microsoft says that only certain builds of Windows 10 Versions 1507, 1511, 1607, and 1703 will receive and require this update. It's available only on systems running Windows 10 Home or Pro.
The update will apparently download automatically and it may open an "Important fix for Windows Update" dialog. Again, keep in mind that not all systems are getting this update.
In case your device is not connected to Windows Update, you may see a User Account Control (UAC) prompt is displayed before the installation starts to make changes to Windows Update.
By the looks of thing, the patch is used by Microsoft to fix issues with Windows Update before a newer version of Windows 10 is offered.
Earlier this month, Microsoft released new Windows 10 cumulative updates for all supposed versions of Windows operating system to introduce a series of quality improvements.
It's worth noting that some versions of Windows 10 will be receiving another set of cumulative updates later this month to include additional bug fixes.