Microsoft has turned into a cooperation focused on cloud services and is no longer the old typical software firm that built Windows operating system and services for consumers. CEO Satya Nadella's Microsoft evolved so much that it has become the world's third most valuable brand, ahead of Facebook and Amazon.
Forbes has created a list of world's most valuable brands of the year 2018, and the publication has put Apple on the first place. Google holds the second position and Microsoft is on the third place, with a brand value worth $104.9 billion, up 21 percent over last year.
Interestingly, the Redmond-based software giant is actually close to the second spot and its brand value is growing every year.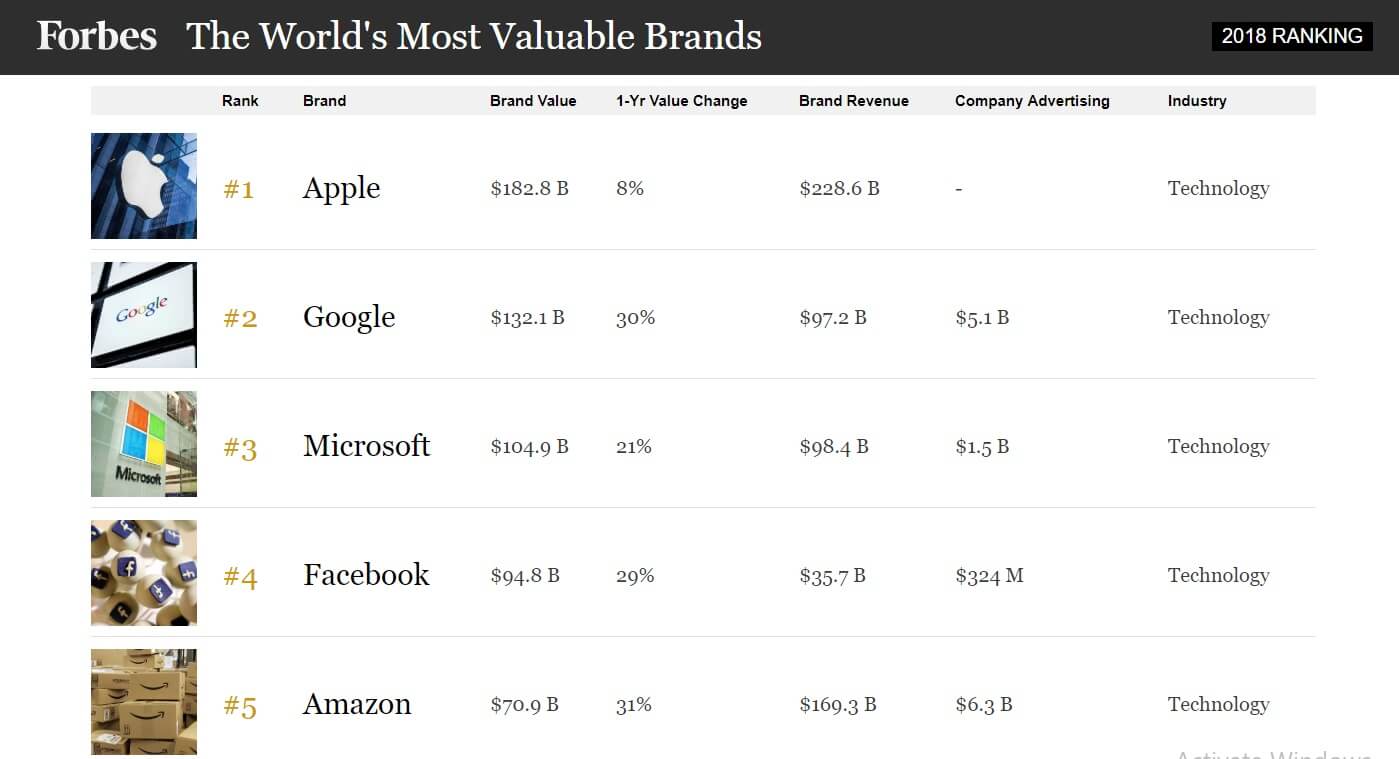 2018 has been a good year so far for Microsoft, and the company's latest financial reports have revealed that the company made $26.8 billion and net income of $7.4 billion. As you might have guessed already, the Intelligent Cloud division was Microsoft's biggest source of new growth for the quarter ending March 31.
With a new CEO at the helm of the company since February 2014, Microsoft has embraced a new strategy in the last couple of years, and it has transformed the tech giant completely. Microsoft focuses on cloud-first and AI-first world and the new strategy adopted by the software giant is indeed paying off.
Microsoft's Azure and other cloud services have become the company's top cash flow, and it's likely to improve in the coming years.
"So overall, growth will moderate as the numbers become big and they've already become very big. But that said, we see plenty of opportunity for total gross margin growth in terms of dollars, just because of the number of markets that we participate in", Nadella said earlier this year.
But the growth is not just limited to the cloud services as the software giant's Surface also contributed to the company's growth, with the revenue increasing 32 percent year over year. The Xbox division also made some good money, with the company saying that the gaming revenue was up 18 percent in both hardware and software segments.
It goes without saying that the software giant would have been much more powerful if it had a successful mobile division.