Microsoft has already unveiled the first Windows 10 on ARM devices from Asus, HP and Lenovo. All the current-generation Always Connected PCs are powered by Qualcomm's Snapdragon 835 processor and Microsoft's Windows 10 on ARM operating system. A while ago a report from reliable sources revealed that Snapdragon 845 processor will power the second-generation Always Connected and it will be unveiled later this year.
Lenovo's next Always Connected PC codenamed Europa recently appeared on GeekBench. The benchmark has revealed that the device will have 4GB of RAM, Windows 10 on ARM and Qualcomm Snapdragon 845 processor.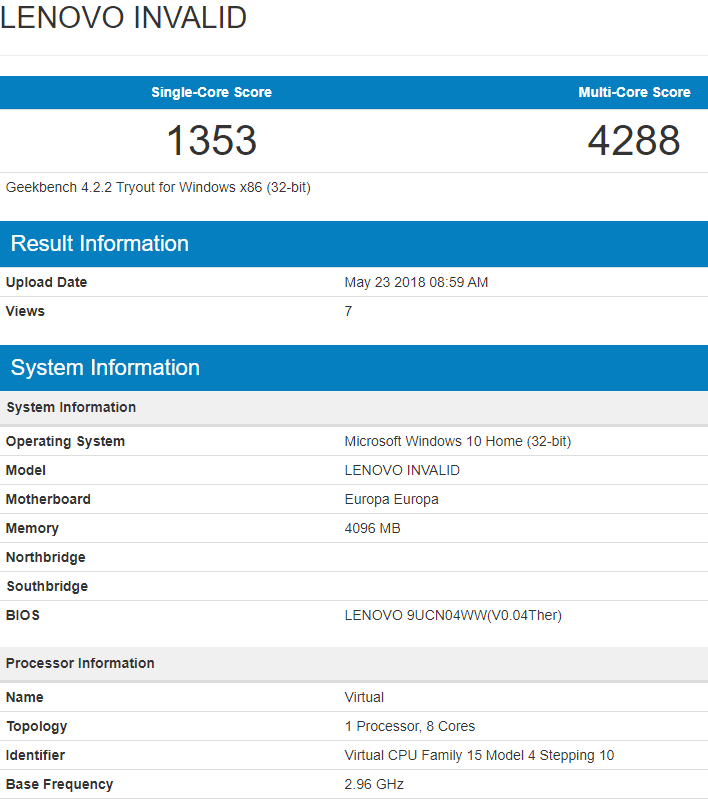 The benchmark score is a living proof that the upcoming devices will be much faster than the first-generation ARM PCs. The device has 8 cores with a clock speed of 2.96 GHz.
It looks like one shouldn't hurry to call Always Connected PCs a flop because what you see is just the beginning and the upcoming devices will be much better than expected. At this point, all of the devices are powered by Qualcomm's Snapdragon chips, but that won't be the case in the future, and it's likely that Microsoft will expand Windows 10 on ARM to more chips.
Just like the current generation ARM PCs, the future devices will be also powered by a PC-optimized version of the Snapdragon, and it will be announced later this year.
Some analysts over at IDC believes that Microsoft's efforts to launch Windows 10 ARM compatible devices will help the company improve its position in the detachable market.