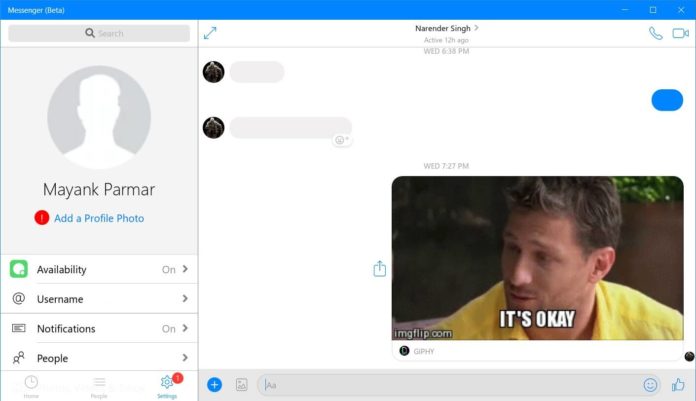 Facebook after a very long time has finally pushed out a new and major update for its Messenger Beta app for Windows 10. The latest update comes with many new features and is available for Windows 10 PCs in Microsoft Store.
The latest update is currently rolling out and comes with many new features for the Windows 10 app. The major new features are available for the Messenger Beta app with new version 165.1656.33520.0.
The latest Messenger update now lets users send photos, emoji and videos in HD. To enable the options, users would need to go to settings, open the Photos section and select "Always send in HD" option.
You will also be able to send reactions to every message you receive from your friends and family. The users would need to long press on the message and choose the reaction they would like to send. The company has also redesigned the Home page and the contact list section in the latest update.
The Chat section of the Messenger app has now received a new UI with users now finding a new grey send bar. A new "+" icon has also been added to choose the multimedia files before sending.
The search bar also received a redesign in the latest update. Hovering or touching the search bar will show you details of recommended people, contacts and more to let you start chatting. The Settings section of the app has been also revamped, for example, the profile picture is now displayed at the top of the app.
A new "Availability" option has been added to the Settings section which now lets users edit the username and other things. You will also be able to search for your favourite stickers by clicking on the magnifying glass in the Stickers section.
The update also comes with many other improvements related to performance and also fixes for under the hood bugs for the Messenger app. The updated version of Messenger Beta is available and you download it from the Microsoft Store.
Facebook might release the features to the stable version of the Messenger in the coming days. What do you think about the new and improved Messenger app? Let us know your thoughts in the comments below.