Earlier this week at Build 2018 developer conference, Microsoft revealed the new improvements to Fluent Design System. In a dedicated session named "Fluent Design: Evolving out Design System", Microsoft announced what's coming to the Fluent Design system with next major Windows 10 update.
Fluent Desing System is a revamp of MSDL2 (Microsoft Design Language 2). Fluent Design System is all about delivering a consistent experience to a user across the device. One of the biggest upcoming changes in Fluent Design system is command bar flyout. Rather than showing the tools and options at the top of the screen, the command bar flyout allows developers to integrate various tools and options inline where a user is working on.
Microsoft is integrating command bar flyout in OneNote Universal Windows Platform app and it will be available to Windows Insiders in upcoming weeks.
Another exciting feature is z-depth which will allow developers to specify the stack order of an element. So basically, an element with greater stack order is always in front of an element with a lower stack order. Furthermore, Microsoft also bringing the all-new way of managing color palette for an app. Developers will able to manage each color controller separately.
The pop-up will also have a layer of transparency as well as acrylic effects. Microsoft also made some changes to the navigation guidelines as well. This means company finally acknowledged the 2 back button issue in the app. You can check out the new navigation pane in an image below.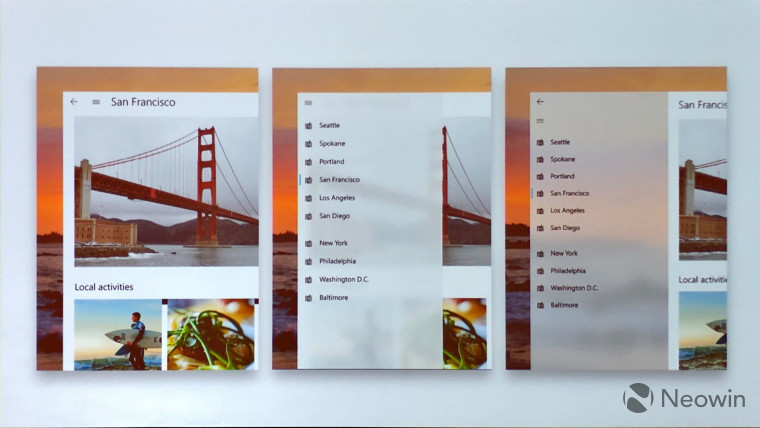 Basically, when Microsoft first launched the Universal Windows Platform, the apps were designed by focusing the touchscreen device, but it is quite painful for the users with mouse and keyboard, and it's one the reason why Microsoft is offering the standard and compact views now.
So with upcoming changes in Fluent Design Element, the user interaction with an app will automatically vary. Sure, the developers need to make lots of changes to the ground app written UWP app. But on other hand, there will be a huge benefit for the Progressive Web Apps.