Microsoft has been testing a new feature called Cloud Clipboard for Windows 10 and it was originally expected to launch in Redstone 4, but eventually held back for next version of the operating system. The Cloud Clipboard is finally ready for beta testing and Microsoft today in a blog post announced this new feature for Windows 10.
The Cloud Clipboard is now available in Windows 10 Build 17666 for the Windows Insiders enrolled in the Fast and Skip Ahead rings. The new clipboard experience in Windows 10 is powered by Microsoft's cloud technology which means that you can access your clipboard across any PC.
The new feature can be enabled from the Settings > System > Clipboard. The clipboard history is synced across devices and it uses the power of the cloud. "Not only can you can paste from the clipboard history, but you can also pin the items you find yourself using all the time," the company explained.
Microsoft could update the Clipboard in near future with other features such cross-platform sync, and applications like Microsoft Edge for Android could play a big role in this integration.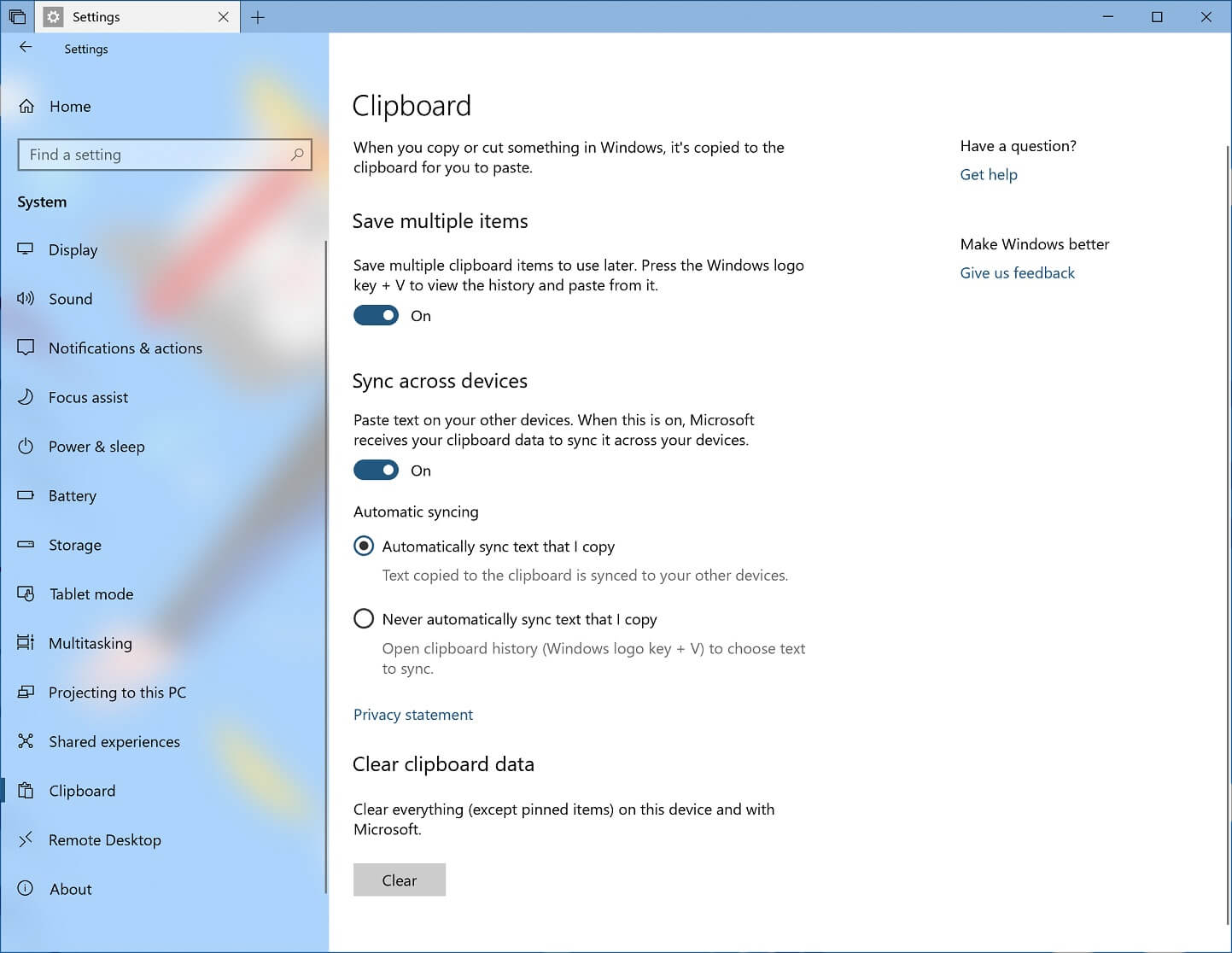 The new preview build is a living proof that Cloud Clipboard is advancing, and it's likely that the upgraded version of the traditional clipboard will soon support cross-platform syncing, which means that you can copy text or files on a PC and then access it on your Android or iPhone.
Cloud Clipboard in Windows 10 basically makes it possible for users to copy and paste content between multiple devices, and sync it with the power of the cloud. At this point, the early implementation of Cloud Clipboard lacks some features but it will definitely evolve ahead of the public release.
The next big update for Windows 10 codenamed Redstone 5 is currently available for Windows Insiders. After the release of Windows 10 April 2018 Update, Microsoft has been actively testing Redstone 5 and developing new features.
Redstone 5 update is projected to launch in the fall and Microsoft is bringing many other features such as Sets and File Explorer with Dark Theme to Windows 10.