Steve Ballmer, former CEO of Microsoft from 2000 to 2014, said in an interview that the power of Google in Europe is out of control and it could be regulated. In the same interview, Ballmer also revealed that he recently sold his shares in Twitter as he doesn't have the time to be an investor.
Former Microsoft CEO Steve Ballmer said in an interview that Google's domination in the European continent must be regulated. He had similar thoughts when he working at Microsoft as the company's chief executive officer.
"I still believe that the … antitrust power of Google in Europe is out of control," he said while discussing Google's domination in Europe. "I think they should be regulated to permit competition, he added. "I thought that when I worked at Microsoft; I still believe it. Microsoft has backed off from that. That's new leadership's perspective. But I absolutely think there's a problem, and the Europeans were on to an appropriate form of regulation," says Ballmer, who's been the leader of Microsoft.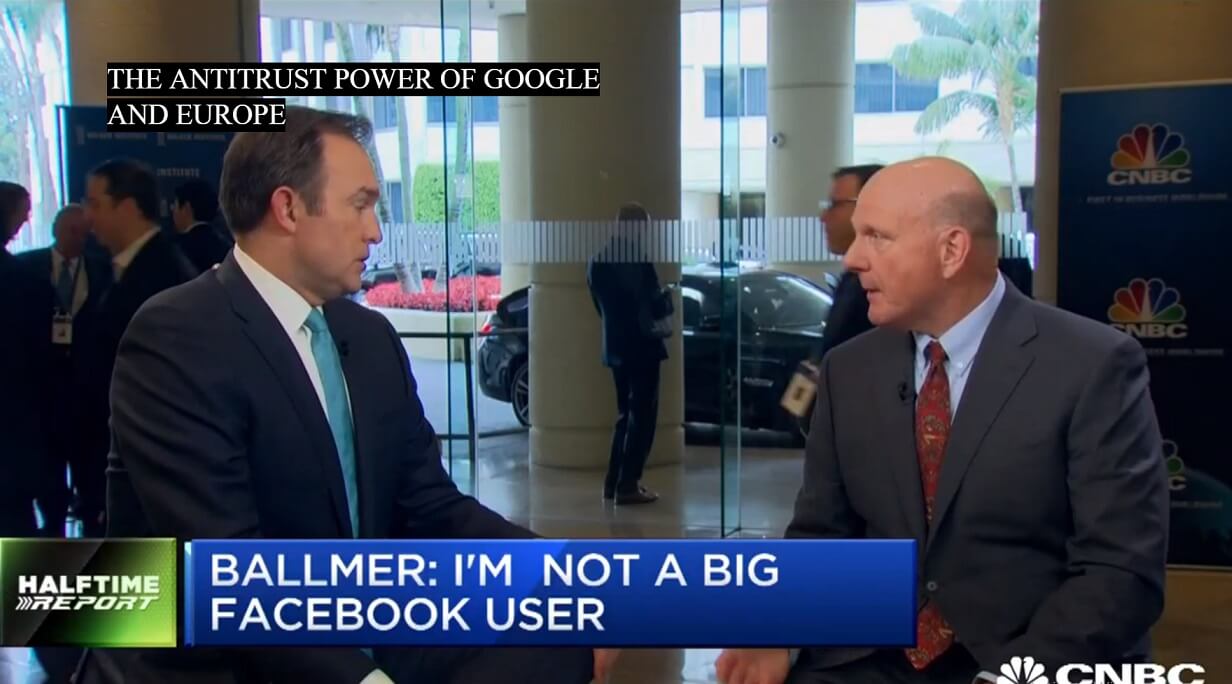 While Ballmer still has shares in Microsoft, he recently sold his shares in Twitter as investing money is not something he wants to do. He remains bullish about Twitter in the long run and he believes the social media will continue to grow in the coming years. Ballmer's decision of selling his Twitter stake certainly makes sense as investing business is not part of his focus and long-term plans.
"I sold really because I decided investing money is not my business," Ballmer said. "I still remain bullish about Twitter in the long run, whether it's an acquisition or something else," he added.
Ballmer's journey at Microsoft
Ballmer was one of the key supporters of Microsoft's hardware business and needless to say, the company's phone business was part of his long-term vision at Microsoft. A while ago, Ballmer admitted in an interview that Microsoft was late to the phone business. His only regret was not pushing Microsoft closer to the hardware business sooner.
Steve Ballmer retired as CEO and was succeeded by Satya Nadella in 2014, he is still one of the largest individual shareholders at Microsoft and continues to be one of the richest people in the world.
Back in 2017, European Union issued a record fine against Google in a case where the search engine giant was found guilty of favouring their services over their competition's services.
Disclaimer: The information contained in this article is based on Wikipedia and an interview video by CNBC. Windows Latest makes no claims, guarantees about the accuracy or completeness, contained in this article or linked pages (websites).