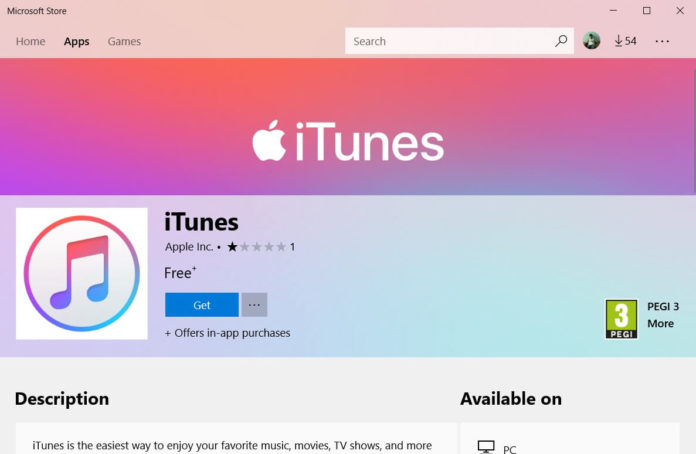 Back in 2017, at Build developer conference Microsoft announced that Apple would launch a Windows 10 version of iTunes. A couple of weeks ago, an AppleCare advisor revealed that the release of iTunes in the Microsoft Store is imminent, and now it turns out that the app is finally available for download.
Apple has today published the iTunes' Windows 10 app in the Microsoft Store, and the app is available for download on PCs. In the Microsoft Store listing, Apple says that iTunes is the easiest way to enjoy your favourite music, movies, TV shows, and more on Windows-powered PC.
iTunes is popularly known for its wide range of music library. The company says that you can listen to millions of songs and entire music library with or without internet, and the content is ad-free. It is worth noting that the PC should be running the latest version of Windows 10 Fall Creators Update or higher.
Apple was originally supposed to launch the Microsoft Store version of iTunes by December 31, 2017, but the release was delayed as the company needed more time to improve the performance and reliability of the application on all hardware. The development process took a little longer than expected.
Needless to say, iTunes in the Microsoft Store is a clever move for both Microsoft and Apple. The presence of iTunes in Microsoft would allow Apple to reach more users as the application is now also supported for systems running Windows 10 in S Mode. There's a good chance many will find the new version of iTunes pretty useful as it is feature-rich and has no negative impact on performance.
Joe Belfiore in an interview recently explained how Windows 10 S forced Apple to support Windows 10. Windows 10 S forced Apple to bring iTunes to the Store because the new operating system's main target is the school and the young audience. As Apple is now supporting the Microsoft Store, Belfiore believes that projects like Windows 10 S could convince other tech companies to do the same.
It is worth noting that the arrival of apps like iTunes in the Microsoft Store is a sign that Windows 10 S would be popular in the education market, and it could bring more sales for the developers.
The April launch of iTunes for Windows 10 seems to be the perfect timing for users, as Microsoft is also preparing Windows 10 April Update which could be released later this month.
You can download iTunes from here.