The latest report from AdDuplex shows that Windows 10 Fall Creators Update is now powering 92.1% of Windows 10 PCs, and needless to say, the adoption of the current operating system improved substantially lately in the past few months. This means that at least 9 in 10 Windows 10 PCs are running the Fall Creators Update.
It appears that the users are interested in new newer versions of Windows 10 as they are finally adopting new OS in a matter of months. Microsoft is improving Windows 10 with every new release and the strong adoption suggests that Microsoft's new OS push for Windows as a Service is improving.
AdDuplex says that the report is based on data collected from around 5,000 Windows Store apps running their SDK. While older releases are discontinued when new ones make it to the market, Microsoft still releases updates for the unsupported version of Windows 10 to secure the systems, and the decision makes sense as the older versions of the operating system are being used by many customers.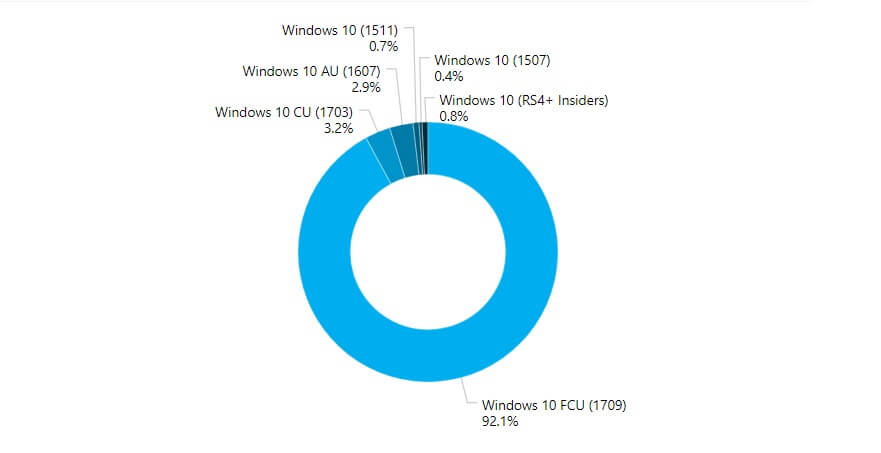 The report shows that Windows 10 Creators Update (version 1703) is the runner-up choice for systems worldwide with 3.2%, down from 4.3% share. While on the other hand, the unsupported Anniversary Update holds 2.9% market share, and only 0.4% of the machines are currently powered by the original Windows 10 release.
The impressive growth of Windows 10 version 1709 isn't really surprising as it's now been over six months since Microsoft released the update. The number could drop as the users will upgrade to Windows 10 April Update in the coming weeks.
Microsoft's Surface lineup is still far behind the PC manufacturers such as HP, Dell and Lenovo, though it's worth noting that this is quite normal given that the company's Surface devices are expensive and innovative.
As noted above, the next version of Windows 10 which is currently being referred to as April Update will go live in the first half of this month. Microsoft is yet to confirm the name and release date of the feature update. As it happened in the past, the rollout of Redstone 4 will take place in stages, which gives Microsoft more time to address the feedback and issues reported by users part of the first wave.