Microsoft has been working on a cloud-powered Clipboard feature for over a year now. Clipboard is a data buffer which is used for data transfer by cut, copy, paste options. A cloud-powered Clipboard feature will allow cloud synchronisation between devices with the same account. This means that you can cut or copy a data from one device and paste it into another device with the same Microsoft account.
Microsoft officially announced Cloud Clipboard back in Build 2017. Cloud Clipboard will allow users to sync their Clipboard data across their phones and PCs. It would be able to sync text, pictures, links, videos, PowerPoint presentations, Word documents, Spreadsheets and also PDFs.
Cloud Clipboard was originally meant for the Windows 10 Fall Creators update but it got delayed to Redstone 4. It was first found out several months ago in Windows 10 Insider 17004 but it wasn't quite functional.
A few weeks ago, a new settings page was found which showcased Cloud Clipboard functionality.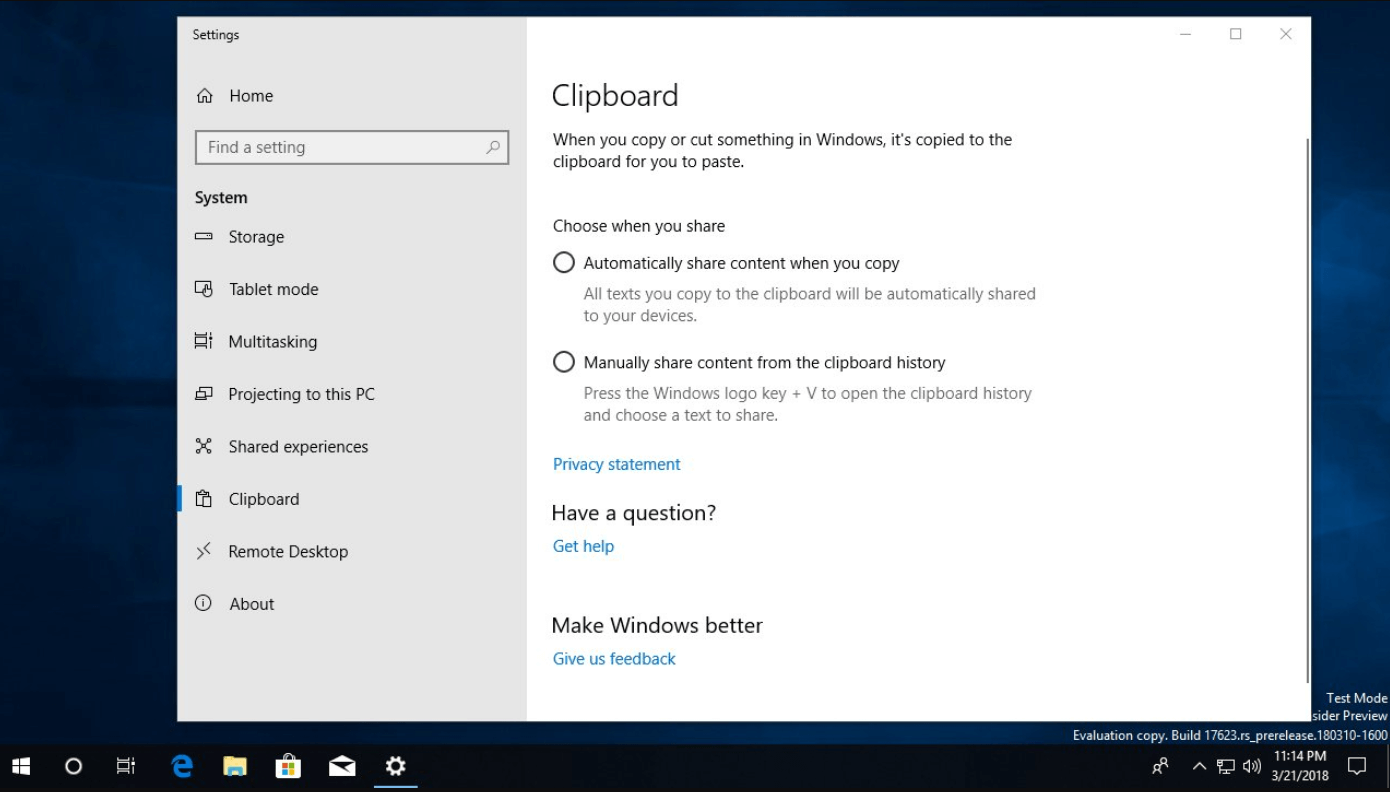 The Settings page shows two distinct options. You can either choose to automatically sync everything that you copy with all devices. This means that whatever you copy from one device will automatically get stored in the Clipboard of another device with the same account. Another option is to choose manual synchronisation. If this option is enabled, you can press the Windows key and V to open Clipboard history. From there, you can choose which text you want to share with another device.
With the recently released Windows 10 build 17643, a new Group Policy has been found out by Tero Alhonen which provides more information about the feature.
Allow Clipboard synchronization across devices Policy in Windows 10 build 17643

If you enable this policy setting, Clipboard contents are allowed to be synchronized across devices logged in under the same Microsoft account or Azure AD account. pic.twitter.com/nm9ZesUiTw

— Tero Alhonen (@teroalhonen) April 13, 2018
Enabling this policy will synchronise your Clipboard contents across devices. It confirms that synchronisation will take place between devices logged in with the same Microsoft account or Azure AD account. On your iOS or Android device, this feature will work if you use Microsoft apps such as the Microsoft Launcher or Swiftkey.
There is also another policy which when enabled will allow the history of Clipboard contents to be stored in the memory of the devices logged in with the same Microsoft or Azure AD account. This has been tweeted be WalkingCat.
there is another policy "Allow Clipboard History", "This policy setting determines whether history of Clipboard contents can be stored in memory." https://t.co/xAo29TE5E2

— WalkingCat (@h0x0d) April 13, 2018
Cloud Clipboard will make it easier for people to use both their PC and smartphones as productivity tools. Copying a text or a document on your PC and pasting it somewhere in your smartphone already sounds magical. We can expect Microsoft to announce this feature officially at Build 2018.