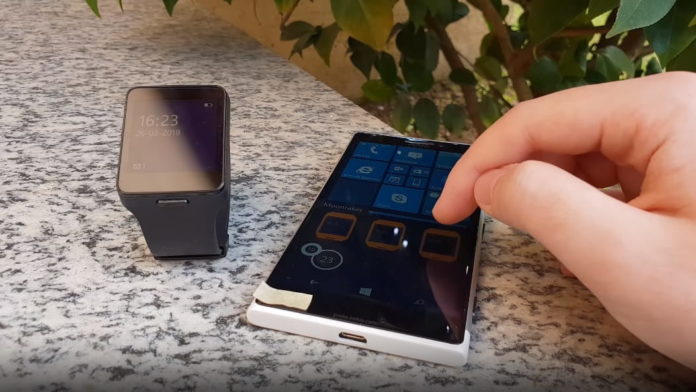 Back in 2015, a report from reliable sources claimed that Microsoft together with Nokia developed a smartwatch designed to work with Windows Phones. The smartwatch called 'Nokia Moonraker' was supposed to be the company's first step into the wearable business.
Today, new images and videos of Nokia Moonraker show it in action. The leaker claims that the Moonraker would have been a great smartwatch as it supported all key features that you'd like to see in a smart wristband. In the leaked video, the Moonraker features metro tile interface, that makes it one of the most advanced devices of its kind.
The Nokia Moonraker not only looks incredible good but also runs the operating system smoothly without any noticeable lag. The video shows a swipe-based user interface with tiles. Just like any smartwatch, it would have supported all-important integration such as Facebook. The integration would have synced the notification across the devices and the smartwatch. It also comes with a plethora of features such as messaging, emails and as well as phone calls.
The Redmond-based tech giant decided to cancel it at the very last minute after the acquisition. A report from The Verge had claimed that the Nokia Moonraker was supposed to be launched together with Nokia Lumia 930, the company's first flagship that runs Windows Phone 8.1 out of the box.
Microsoft reportedly cancelled the Moonraker to launch the Band devices. Microsoft Band was a series of wearable that comes with Windows tile-like interface and support for Windows Phone, Android and iPhone. It's worth noting that Microsoft Band design is not even close to being as appealing as the one Nokia Moonraker features. What do you think of Moonraker? Let us know your thoughts in the comments below.