At Build developer conference, Microsoft announced the cloud-powered feature for Windows 10 operating system. The Cloud Clipboard feature was supposed to arrive with Windows 10 Fall Creators Update, but for some unknown reasons, the highly-anticipated feature won't be launched until late 2018.
Microsoft's Cloud Clipboard feature for Windows 10 would make it possible for users to copy and paste clipboard data from one device to another. While the third-party applications such as Roamit already allows users to sync the clipboard between Windows 10 devices, the software giant is trying to integrate this feature in the operating system, as a result, the built-in Cloud Clipboard would be more reliable than the third-party apps.
Cloud Clipboard would work on any Windows 10 devices (excluding phones) that are logged into the same Microsoft account. The feature will basically allow users to copy content on a specific device and then paste it on another that's logged in with the same Microsoft account.
"This will work in Windows 10 without developers needing to modify their apps. It will be possible to add value on this though," Joe Belfiore explained at Build 2017 developer conference.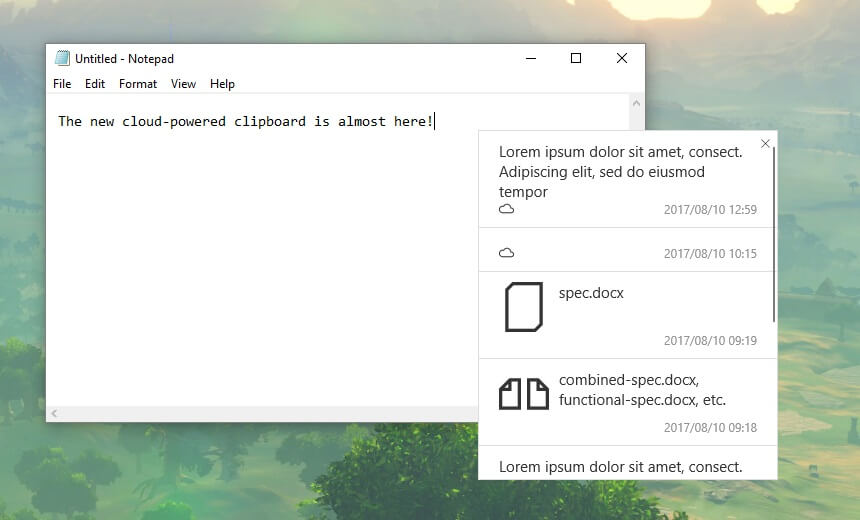 A new patent published on 8th February includes a clue to a device that would use Cloud Clipboard technology. The patent titled 'Interacting with a Clipboard Store' details 9 different modes, while the drawing hints at Cloud Clipboard's integration in a Windows operating system, it also describes a technology that would allow users to transfer content from one device to other devices.
"A clipboard component provides a multi-item clipboard store. The clipboard component uses a technical strategy that facilitates its efficient adoption and use by end users and application developers. From an end user's standpoint, the clipboard component provides a new user experience which is easy for the users to discover, learn and use, due, in part, to the use of ergonomic control mechanisms for activating paste and copy operations," the company explained.
It's likely that the Cloud Clipboard tool would work across all platforms, including Android where the support will be offered through a Microsoft app. We are not sure whether or not the feature will become available to the testers in the upcoming Windows 10 Redstone 5 preview update.