Nvidia has also issued a security update for its GPU drivers against the Meltdown and Spectre vulnerabilities. This update will help to mitigate the attacks from these vulnerabilities.
You probably would be wondering that why Nvidia being a GPU manufacturer is releasing a patch for the vulnerability that is affecting CPU's. Well, according to Nvidia, anyone who writes software has to patch and as they have their driver software, they have patch the drivers to fix CPU vulnerabilities too. The update will also probably make it harder to exploit driver software on a device that could be affected/vulnerable to these flaws.
As reported by NVIDIA, three variants of the vulnerabilities are known till now and the company recommend users update their drivers as soon as possible. Updates are available for some GeForce, Quadro, Tesla and GRID drivers for both Windows and Linux operating systems. Update for the rest is expected before the end of January. The updated drivers can be downloaded from Nvidia's page.
Here are the updated versions you should be looking for: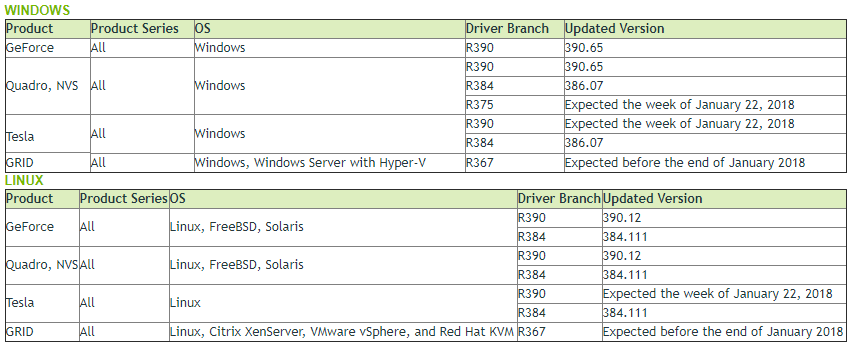 But Jensen Huang, CEO of Nvidia, has confirmed that none of their GPU is affected by these vulnerabilities. He says, "Our GPUs are immune, they are not affected by these security issues. What we did was released driver updates to patch CPU security vulnerabilities. We are patching the CPU vulnerabilities in the same way Amazon will, Epic, and Microsoft, because we have a software, too. Anyone who writes software has to patch. So we have to patch our drivers to patch the CPU vulnerabilities. I am absolutely certain our GPU is not affected."