AdDuplex, the largest cross-promotion network for Microsoft/Windows Store apps and games today revealed that Windows 10 Fall Creators Update is already running on more than half of the PCs worldwide. This means that Windows 10 Fall Creators Update is off to a good start. It's worth noting that the "report is based on data collected from around 5,000 Windows 10 Store apps".
"After about 2 months after release, Fall Creators Update is already on more than half of the PCs in use," says AdDuplex.
Windows 10 Fall Creators Update is experiencing faster adoption than its predecessor. The Fall Creators Update now has a market share of 53.6 percent. On the other hand, Windows 10 Creators Update is on the second spot with 33.7 percent of market share, followed by the Windows 10 Anniversary Update with 10.5 percent.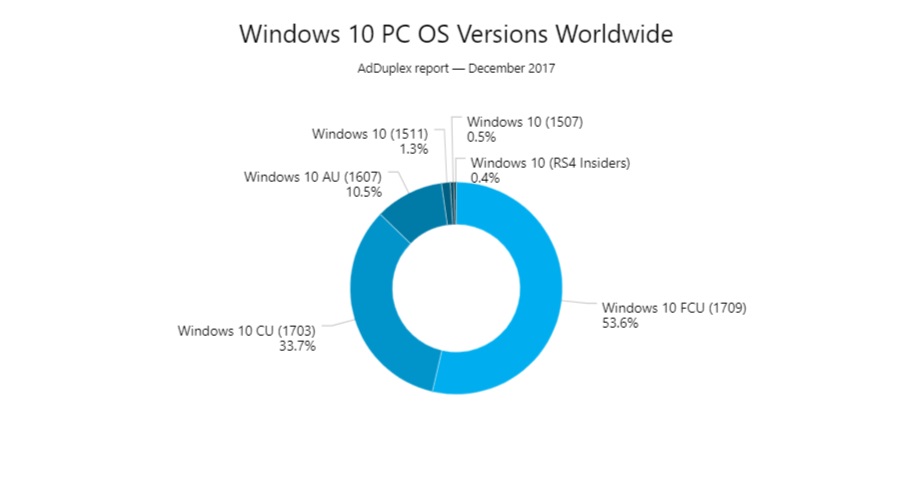 Windows 10 November Update and the original version of the operating system is running on 1.3 percent and 0.5 percent of devices respectively.
"The growth line for the Fall Creators Update seems to be much steeper than it was for its predecessor, but not as steep as for the Anniversary Update. Having said that, the older versions of Windows 10 seem to be lingering around much longer which eats into the market share of the newer releases," AdDuplex said.
As Windows 10 Fall Creators Update is rolling out in stages for PCs across the world, we still need to wait a few more months to get a better look at the adoption rate of the new operating system.
John Cable, Director of Program Management, Windows Servicing and Delivery recently explained that Microsoft rolls out updates gradually in order to deliver flawless upgrade experience to all devices. "By starting with machines which we believe will have the best update experience, we are able to get focused feedback on application compatibility and how Windows works with the rich ecosystem of available peripherals like Bluetooth devices or cameras," Microsoft said in a blog post.