Microsoft has released a new web tool that would help the Windows Insiders to keep track of all the builds flighted by the Redmond giant. Senior Program Manager on the Windows Insider Program, Brandon Leblanc in his free time learned coding and created a simple tool to help Insiders stay up to date.
If you have multiple machines enrolled in the Windows Insider program, you will find this tool handful. The tool called "Flight Hub" is basically a dashboard that lets you access the build information for PC, Server, IoT builds and even SDKs.
The Flight Hub dashboard has all things related to the preview builds, it is a simple website that links to Windows Blog posts, and the only best part is that Microsoft has also included the dates for when builds were released.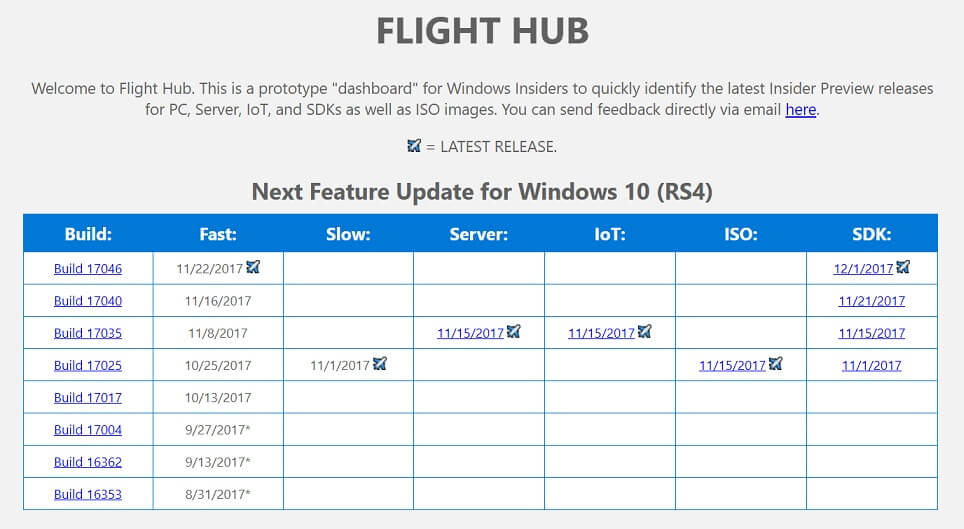 "Flight Hub is a prototype "dashboard" for Windows Insiders to quickly identify the latest Insider Preview releases for PC, Server, IoT, and SDKs, as well as ISO images," Microsoft's Brandon LeBlanc, explains on the website.
Brandon LeBlanc explains that Microsoft is also planning to expand the website into an app, and in future Microsoft also plans to integrate it into the Windows Insider website (after the beta testing) and the Windows 10 Feedback Hub.