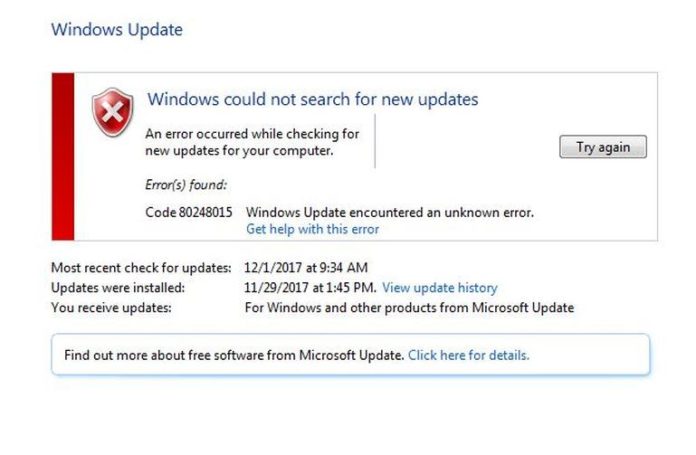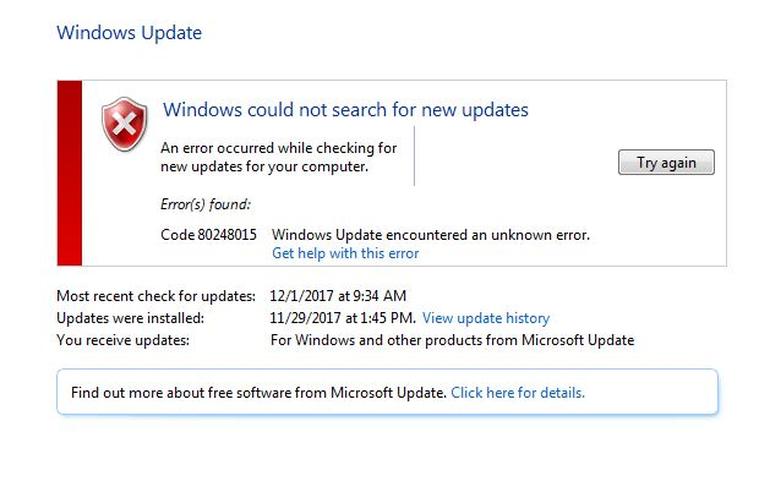 Microsoft ended mainstream support for Windows 7 operating system in 2015 but the Redmond giant won't end security updates for your Windows 7 PC until Jan. 14, 2020. Yesterday, a number of Windows 7 and Windows Server 2008 users reported that they are experiencing Windows Update error 80248015 on Windows 7 when they check for system updates.
The error prevents them from checking for updates, ultimately leaving the machines prone to security vulnerabilities. The reports indicate that the bug first appeared on December 3 and it's a server-side issue. You can, however, try to fix Windows 7 error 80248015 by following some workarounds.
A user says that when they check for updates, they get an error message "Windows could not search for new updates," while some are getting another error message reading "Windows Update cannot currently check for updates because the service is not running. You may need to restart your computer."
Simple workarounds like rebooting the system or hitting the "Try again" option doesn't work. For now, there are at least two workarounds to fix the broken Windows update system on Windows 7.
How to fix Windows Update error 80248015 on Windows 7
As I noted above, there are only two working workarounds. And none of them requires a clean install of the operating system, all you need to do is change the date of the machine or disable the Windows Update. Here's how you can do that.
Workaround #1: Change your date and time
Many users on the Microsoft answer forums confirmed that they able to check for updates on Windows 7 by setting back the date to March 12, 2017. This simple trick restores Windows Update functionality and you should be able to download new updates.
Workaround #2: Disable additional Microsoft updates
Open Control Panel.
Navigate to: System and Security -> Windows Update -> Change Settings -> Choose how Windows can install updates.
Uncheck the option: Give me updates for Microsoft products and check for new optional Microsoft software when I update Windows.
Click 'OK' and save the changes.
Check for updates and you will be now able to download the updates without any error.
These two workarounds seem to have fixed the issue for many users. There are no other helpful answers for users, and Microsoft has remained tight-lipped on how to fix the bug. Microsoft is however expected to acknowledge the bug in the coming days and it will be fixed with the next cumulative, that will be released on December 12 (Patch Tuesday).