This is the day when Microsoft's Windows celebrates its 32nd anniversary. Microsoft's Windows was launched 32 years ago and is still the world's number one desktop operating system. It all actually started today, when Microsoft launched the first version of its desktop operating 'Windows 1.0'. In this article, we're going to describe each Windows version and what's next for Microsoft's desktop platform.
Windows 1.0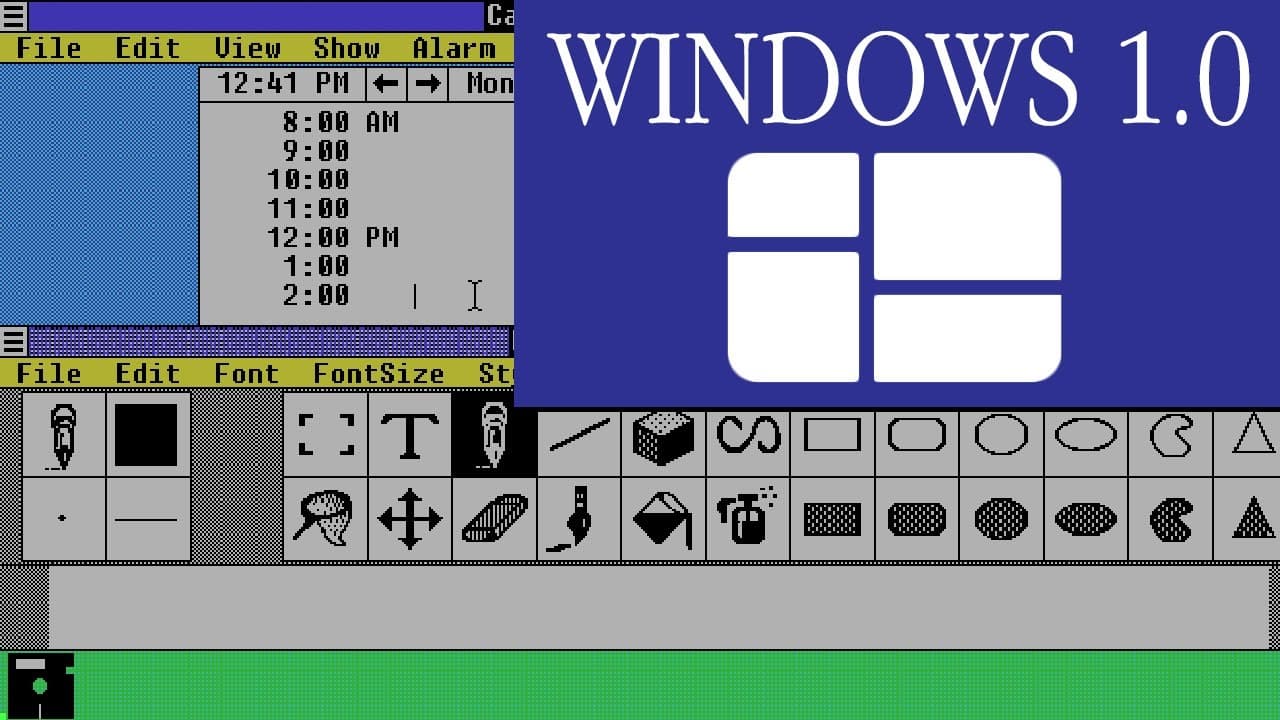 It all actually started with Windows 1.0, the first version of Microsoft's desktop platform. The graphical personal computer operating environment featured a graphical user interface (GUI), the GUI enabled a user-friendly icons on screen and 16-bit multitasking shell run on top of an existing MS-DOS installation. Windows 1.0's windows, menus, scroll bars, icons, and dialogs elements are still part of the platform.
While it was based on MS-DOS system but it also allowed the users to click on the icons, menus using the mouse, and users no longer had to type commands. With Windows 1.0, Microsoft also included applications such as Paint, Calculator, Notepad, Revarsi and Writer.
Windows 2.0
Windows 2.0, the successor to Windows 1.0 was released on December 9, 1987 and it also featured GUI-based operating environment. The new operating system allowed windows to overlap each other, this was a major improvement as it provided the best multi-tasking experience.
Microsoft also introduced the "Minimize" and "Maximize" options, and new keyboard shortcuts. Although in 16 colors only, Windows 2.0 included VGA graphics and it was the last version of Windows that did not require a hard disk.
Windows 3.0 and 3.1
Windows 3.0 introduced essential improvements such as the improved user interface and the company also significantly improved the performance. It also included a Protected mode which allowed Windows to run the application with more memory and thus delivering a better user experience.
Windows 3.0 was the version of Windows to run programs in protected mode and this update also led to other visual improvements. This also experienced very good sales, 2 million sold copies in just six months after launch.
Windows 95 and 98
The consumer-oriented operating system developed by Microsoft Windows 95 was released on August 24 and the OS merged the formerly separate MS-DOS and Windows products.
Windows 95 introduced numerous functions and features, such as the Start menu and also changed the way the user navigates. The key elements of Windows 95 design are still in use, for example, the taskbar is part of the latest version of Windows 10. Windows 95 was the best-selling Microsoft's product at that time and it was a major update to the Windows operating system.
Microsoft introduced Windows 98 in 1998 with major improvements such as Internet Explorer 4. Microsoft also released Windows 98 Second Edition to bring new features and bunch of improvements like Windows Media Player and Internet Explorer 5.
Windows Millennium Edition ( Windows ME)
Windows Millennium Edition (also known as Windows ME) was released in September 2000. It brought some important changes such as improvements in terms of performance and as well as visual changes. The operating system also added Windows Media Player 7 and Windows Movie Maker applications.
Windows XP
Windows XP is still very much alive as the operating system is still being used by a lot of users, it has a market share of 6.47 percent, increased from 5.69 percent last month. Released in October 2001, Windows XP was a major improvement over Windows 95 and 98, bringing new features and applications such as Internet Explorer 6 and a new Windows Media Player version.
Windows XP looked a lot more appealing for PC users, than any previous version of Windows operating system. It came in SKUs; Home, Professional, and Media Center.
Microsoft ended support for Windows XP in April 2014 and the users are still using the operating system. Users refused to upgrade to Windows 10 because they loved the old start menu and reliability.
Windows Vista
Windows Vista was officially launched on November 30, 2006 and it was released after months of delays, and it was named as one of the biggest fails in Microsoft's history. While Windows Vista introduced many new features, UI changes and redesigned user interface but it was criticised because of the tribble performance.
The new operating system came too late after Windows XP, the development of Windows Vista took around 5 years to complete. And since it came with new hardware requirements that forced companies and users to upgrade their systems, the operating system was criticised and it ultimately failed.
Windows 7
Microsoft repaired the Vista disaster with Windows 7 which brought many changes and improvements in terms of performance and appearance. Microsoft released Windows 7 in several versions including Home and Professional. The operating system featured multi-touch support, new visual effects, and better security.
Windows 7 is the world's number one desktop operating system and the company's latest operating system is still not able to overtake the Windows 7 operating system.
Windows 8
Another disaster after Windows Vista was the Windows 8 operating system which was launched in October 2012 only to be boycotted by Windows XP & 7 royal users. Microsoft focused on the touch feature and ditch the traditional start menu in favor of start screen, designed for touchscreen devices.
Windows 8 introduced the Modern interface consisting of tiles and as well as gestures support. The company introduced major changes to the operating system and even improved the user interface on tablets, the design resembled the look of Windows Phone 7. With Windows 8, Microsoft wanted to compete with mobile operating systems, including Android and iOS.
Microsoft realized its mistake and introduced Windows 8.1 to focus on the desktop feature and added the start button once again. Windows 8.1 and Windows 8.1 Update were launched in October 2013 and April 2014, respectively and improved the original version of Windows 8.
Windows 10
Microsoft announced Windows 10 on September 30 and released to users as a preview build in early October 2014. With Windows 10, Microsoft rectified the mistake the company committed in 2012, by bringing back the start menu and keeping the touch-friendly interface.
Microsoft also allowed the users to test Windows 10 and send feedback to improve the operating system. Windows 10 changed the way Microsoft treats Windows operating system and it is also the last version of Windows, as the future is "Windows as a service."
Windows 10 added new features such as the multiple desktops and new visual effects with borderless windows. Microsoft recently released Windows 10 Fall Creators Update and the company is now testing the Windows 10 'Redstone 4' update, which will bring new features such as Windows Timeline and Fluent Design visual improvements.