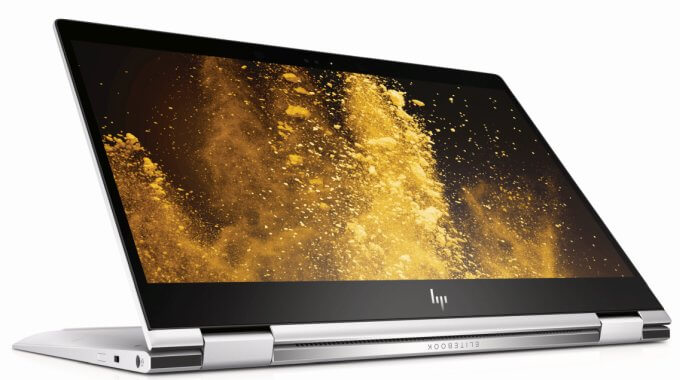 HP has announced a new set of PCs with Windows 10. The company has unveiled a pair of two new EliteBook PCs and the new all-in-one EliteOne 1000 G1. The three new PCs are powered by Microsoft's latest operating system, Windows 10.
The new HP EliteOne 1000 G1
The EliteOne 1000 G1 comes under the HP's business brand, it is an all-in-one Windows 10 PC. HP has announced three variants of the Elite 1000 series.
The smallest model comes with 23.8-inch Full HD, you can choose between touch and non-touch versions as well. Another model comes 27-inch UHD with 4K panel. Lastly, the big 34-inch model has a curved WQHD display.
All devices are powered by 32GB of DDR4 RAM and 1.5TB SSD. It runs Intel Core i8 chipset and you upgrade the device's components by swapping them. As Microsoft's digital assistant Cortana is quite popular, HP has included a new technology called 'far-field voice' that helps Cortana to interact with you through the device's dedicated speakers.
It comes with an interesting feature 'PhoneWise' that lets you use your PC like a phone to receive calls and you can also send texts. However, at the moment, only Android and iOS operating systems are supported while the company has ignored its own flagship Windows 10 Mobile 'HP Elite x3'.
The device starts at $1,259. You can buy the 23.8-inch model for $1,259 while the bigger variant with 27-inch display costs $1,499, the devices will be launched later this month. Although, the most expensive variant with the 34-inch display will be available starting November.
The two new EliteBook PCs
Microsoft has also announced the two new PCs under the EliteBook brand. The EliteBook 1040 G4 and the x360 1020 G2 also targets the business market with a slim, light and premium design.
The HP's EliteBook 1040 G4 has an Intel's dual-core U-series chip, alternatively, you can also buy the same model with Intel Core i7-7820HQ processor. As we noted above, the  1040 G4 is a slim notebook with just 15.95mm thickness. It is also light as the device weighs just 2.99 pounds.
The quad-core model offers 15 hours of battery while on the other variant, the battery lasts up to 18 hours.
The EliteBook x360 1020 G2 is very thin with only 13.9mm thickness and it weighs 2.48 pounds. The device starts at  $1,379, both EliteBook 1040 G4 and x360 1020 G2 will be available later this month.