Build 2017 brought a lot of new things for the Windows 10 platform. A new SKU of the OS, new developer tools, cool new Cortana capabilities and finally the Fluent Design, a new design language for Windows 10.
Microsoft announced that Fluent Design will arrive to Windows 10 with the Fall Creators Update. Windows Insiders are already getting the first crack with the latest PC builds and with the new updates for the inbox apps. Groove, Movies & TV, Maps and many other stock apps are getting a new makeover with the new design language. With the blur and acrylic effects, the solid coloured Windows 10 is getting slowly replaced by the eye candy aero-esque UI.
In the Build video, Microsoft has further highlighted how the new design language will make Windows 10 better. Adding more Light, Depth, Motion, Material and Scale effects, the new UI overhaul will make the OS better looking and more appealing than before. As if this wasn't enough, Microsoft has revealed that it's planning to implement more of the new UI with the second wave of the Fluent Design.
The second wave of the UI overhaul will introduce more effects like Speech, 360 media playback, Spatial Sound and other cool stuff. While Spatial Sound is already available with the Creators Update to some extent, Microsoft is trying to integrate this feature with the OS.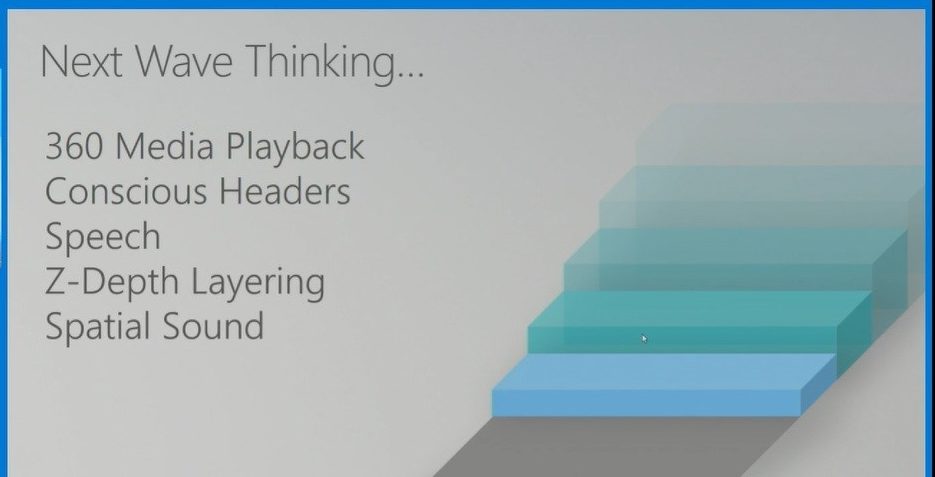 Though not much have been hinted, the new overhaul will surely give Windows 10 an edge over Mac, which has been long complimented for it's beautiful UI. Microsoft's new design language just seems perfect and is indeed visually stunning for users and developers alike. Windows Insiders are already testing it and the apps are getting the updates one by one. It's only a matter of time before our desktops start looking great again with the Windows 10 Fall Creators Update. Remember the days of Windows Vista? Well, at least the appealing part of it is coming back with a bang.