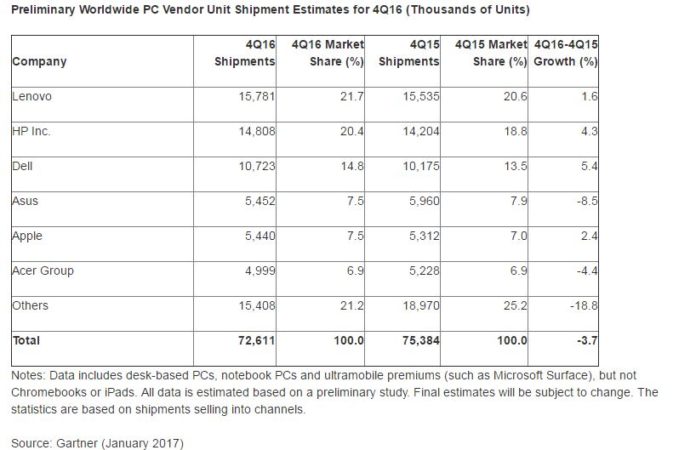 Gartner, Inc. one of the world's leading information technology research and advisory company has confirmed that the Global PC shipments have declined for fifth consecutive year. However these reports are preliminary and the worldwide PC shipments totaled 72.6 million units in the fourth quarter of 2016, which is a decline of 3.7 percent from fourth quarter of 2015.
For the year, 2016 PC shipments totaled 269.7 million units which is a decline of 6.2 percent from 2015. The PC shipments have declined Year on Year since 2012.
"Stagnation in the PC market continued into the fourth quarter of 2016 as holiday sales were generally weak due to the fundamental change in PC buying behavior," said Mikako Kitagawa, principal analyst at Gartner. "The broad PC market has been static as technology improvements have not been sufficient to drive real market growth. There have been innovative form factors like 2-in-1s and thin and light notebooks, as well as technology improvements, such as longer battery life. This end of the market has grown fast, led by engaged PC users who put high priority on PCs. However, the market driven by PC enthusiasts is not big enough to drive overall market growth."
Lenovo maintained the No. 1 position, as the company experienced shipment increases in North America and EMEA, while Asia/Pacific and Japan continued to be challenging markets. HP remained in the second position, and it has recorded three consecutive quarters of shipment growth. HP secured the top position in PC shipments in the U.S. and EMEA, growing faster than the regional averages.
Dell also registered three consecutive quarters of shipment growth in Fourth Quarter of 2016. Dell continued to place PCs as a strategic business segment in commercial and consumer markets during 2016. Asus suffered the steepest decline among the top six vendors in the fourth quarter of 2016. Asus has been shifting its PC strategy more toward the high-end market, which will allow it to maintain better profit margins. Gartner analysts said the falling shipment volume could be the cause of this strategy shift.