We have spotted several new benchmarks that provide a clearer picture of Lenovo's Legion Go. For those unaware, Lenovo has been working on a Windows 11 23H2-powered Legion Go handheld device to compete against Steam Deck. Based on the leaked benchmarks we spotted, Legion Go is powered by AMD Ryzen Z1 Extreme.
The Legion Go is a direct competitor to Steam Deck powered by Windows 11. Microsoft's operating system isn't optimized for handheld devices, but the adaptive interface allows it to work pretty well on handheld devices.
It is also important to recall that some engineers at Microsoft recently pitched a new handheld interface for Windows 11. At the Microsoft Hackathon, an employee showcased a "Windows Handheld Mode" project. This was just a proof of concept, but given the sudden rise in the interest of Windows handheld devices, it may eventually develop into a real product.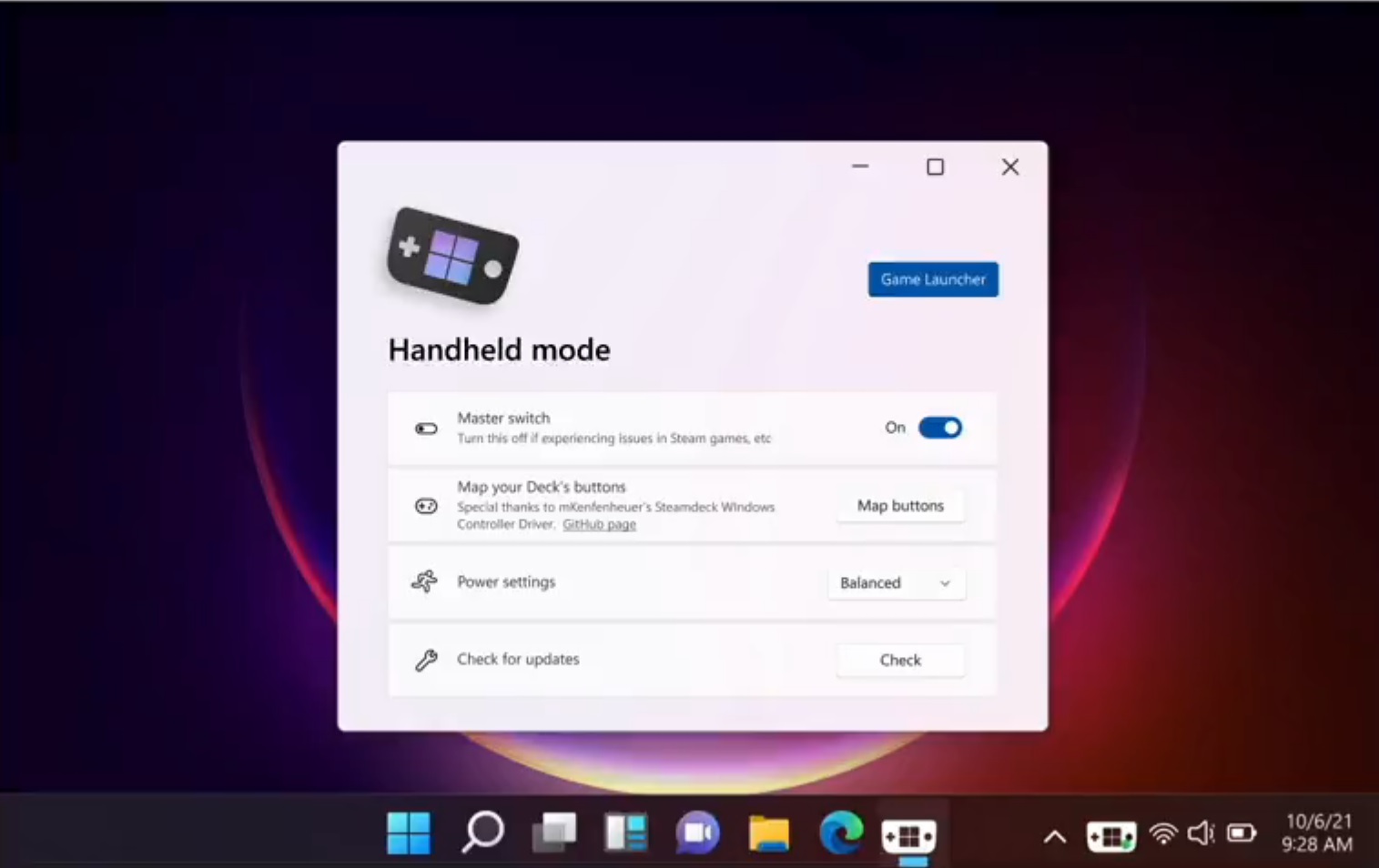 Legion Go specs leaked via benchmarks
According to three leaked benchmarks (1, 2, 3), Legion Go appears to be powered by AMD using Ryzen Z1 CPU. This new processor also powers ASUS ROG Ally, another handheld device for gaming. Some reports had previously suggested Lenovo plans to use Ryzen 7040U, but the tech giant has opted for Ryzen Z1.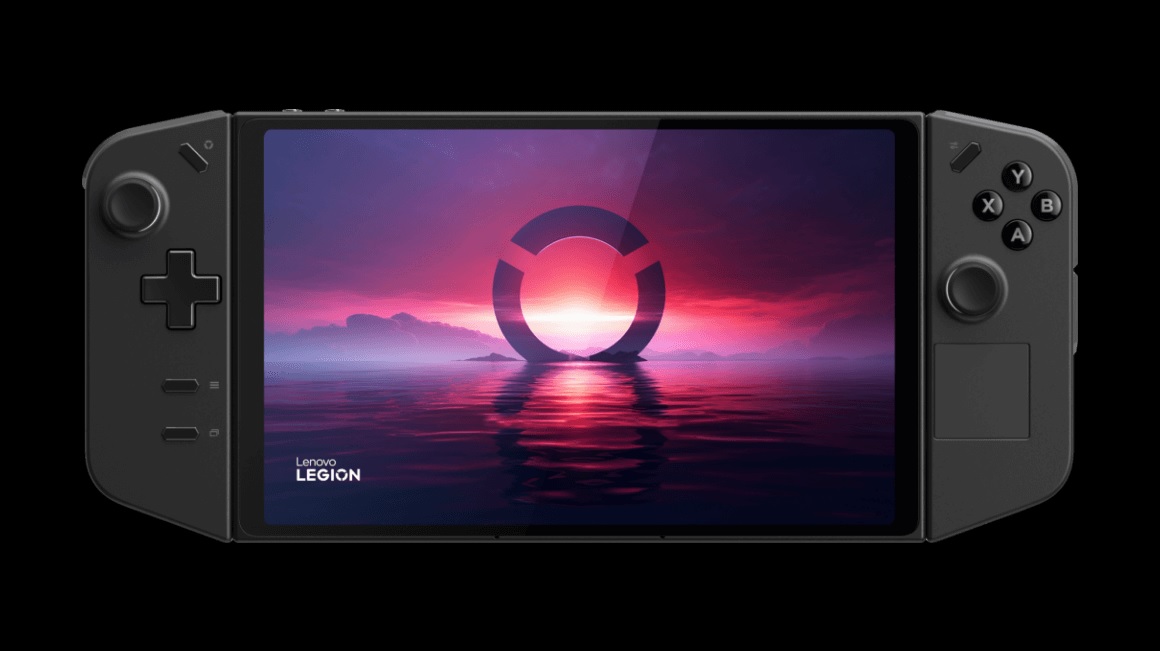 Using the Ryzen Z1 in Legion Go does make sense as AMD has made several adjustments to the Z1, including improved and customised power and voltage curves. These improvements over the Ryzen 7040U may allow the company to offer better performance and longer battery life.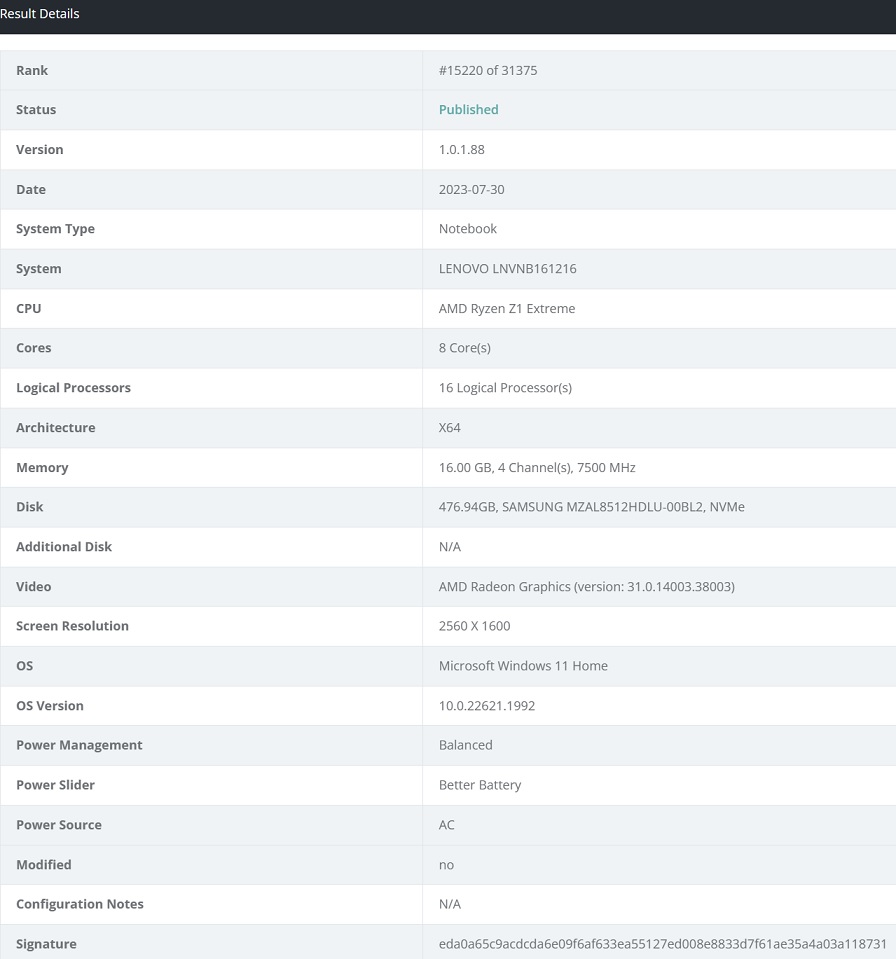 According to benchmarks spotted by Windows Latest, Legion Go uses an 8-inch screen with a resolution of 2560 X 1600 pixels. This places it firmly within the 16:9 aspect ratio range, making it suitable for widescreen gaming.
Lenovo seems to be exploring multiple storage options, including a 512GB SSD made by Samsung. This could be either M.2 2230 or M.2 2242 drive, and it shouldn't come as a surprise.
Here's the leaked benchmarked specs of the device:
CPU: AMD Ryzen Z1 Extreme
Cores: 8 Cores, with 16 Logical Processors
Architecture: X64
Memory: 16.00 GB (4 Channels at 7500 MHz)
Disk: A 476.94GB drive (512GB) by SAMSUNG (MZAL8512HDLU-00BL2), NVMe
Video: AMD Radeon Graphics, with a specified version: 31.0.14003.38003
Screen Resolution: 2560 X 1600
Operating System: Microsoft Windows 11 Home, version 10.0.22621.1992 (23H2)
Power Management: Balanced mode, with a power slider set to 'Better Battery' and sourced from AC.
Thanks to the leaked renders, we know that Lenovo has incorporated a single built-in trackpad into the Legion Go.
The touchpad has a mouse sensor and FPS mode switch, which could significantly improve how you play games on a mobile-like device. And Lenovo appears to be using the six auxiliary gamepad buttons.
We don't know when Lenovo plans to launch the Windows 11-powered handheld device, but the announcement might be just around the corner.