Microsoft has been working on the Windows 11 23H2 for a while now, and it looks like the company is preparing the update for public rollout. References to Windows 11 23H2 (also known as Moment 4) have already popped up in the July 2023 cumulative update for the operating system.
As we exclusively confirmed earlier this year, Windows 11 23H2 was always going to be a minor update rather than a new version of the OS. This feature update is based on Windows 11 22H2, released last year. In other words, Windows 11 23H2 is an enablement package that turns on the dormant features in the OS.
Inside the July 2023 Patch Tuesday update, we found references to several packages with references to "Moment 4". It is important to understand that Moment 4 is Windows 11 23H2, not a separate update. In our tests, we found that Microsoft is testing an enablement package named 'Microsoft-Windows-23H2Enablement-Package'.
July 2023 Patch Tuesday already contains references to "Microsoft-Windows-UpdateTargeting-ClientOS-SV2Moment4-EKB". The same pattern was previously observed in Windows 10 build 19045. Only the tiny enablement package is needed to turn on new features.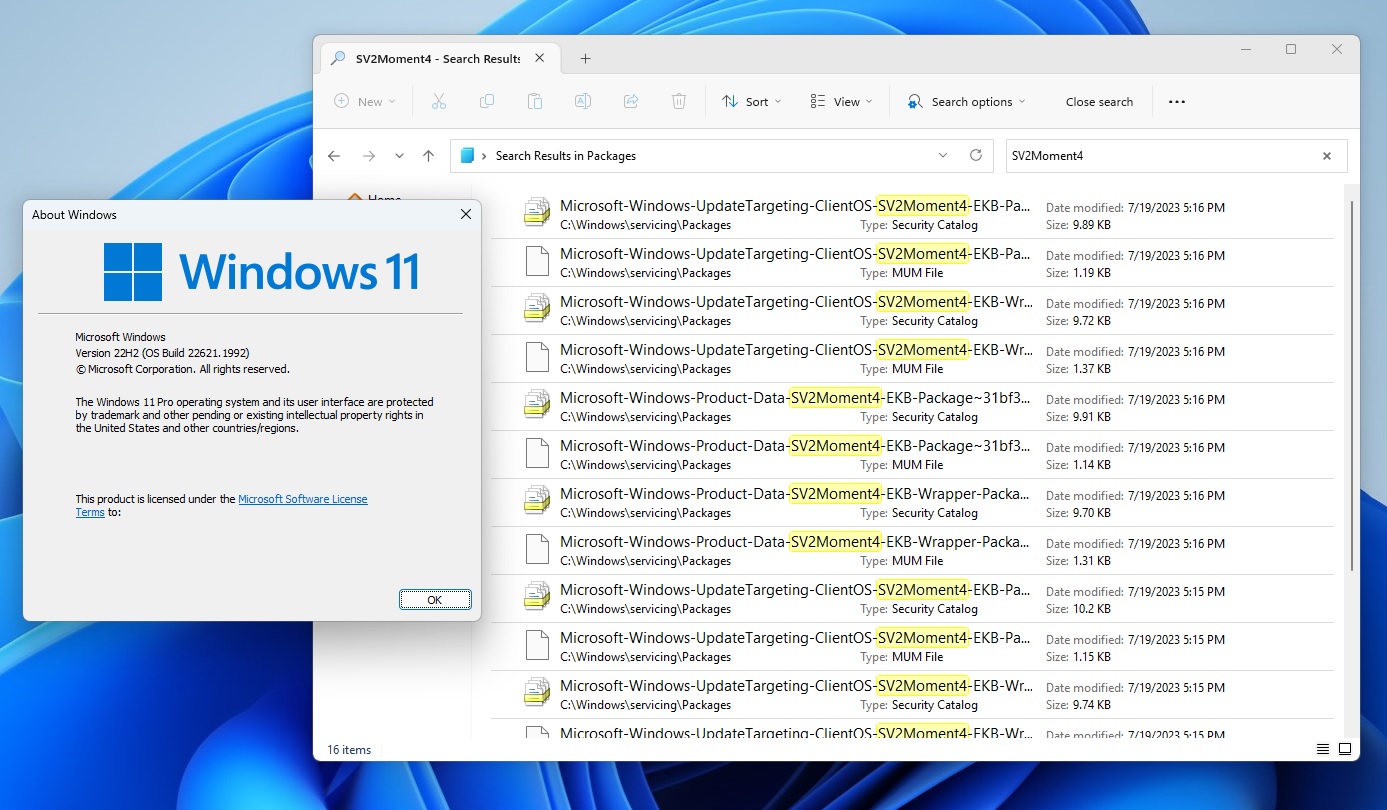 This confirms again that an enablement switch will trigger the 23H2, and Microsoft has already started preparing version 22H2 PCs for the next update.
For those unaware, Windows 11 enablement packages flick the 'switch' to enable features preloaded to the PC. In this case, Microsoft has started bundling the next big update's features with Windows 11 22H2, so there's not a lot of downloading or files; the update is already straight there.
Windows 11 23H2 update promises to introduce a range of new enhancements. There's a revamped File Explorer with a recommended files section, a new header, more Mica, Fluent Design, upgraded search, and more. Other features include taskbar ungrouping, native support for archive packages like RAR and 7-Zip, and the introduction of Windows Copilot.
Microsoft is actively testing the fall 2023 update in the Beta and Dev channel of the Insider program. Windows 11 technical preview builds in the Dev Channel contain more features than the Beta channel, suggesting more features will be added to the update in the coming weeks.
In the near future, 23H2 will move to the Release Preview channel before being rolled out to everyone.