Microsoft is preparing several big feature updates for Windows 11 and the first update could land as early as February-March. This has been confirmed via multiple Microsoft sources, including the ever-reliable WalkingCat (a Twitter handle that keeps an eye on all things Microsoft).
WalkingCat's sources revealed that the next Moment update will land in February or March, and the "Continuous Innovations' update is planned for May 2023. "Continous Innovations" could be another name for "Moments" updates which are smaller updates with a limited set of improvements.
So what to expect in the first Moment update of the year? According to the changelog of preview builds, Microsoft is working on a tablet-optimized taskbar. For those unaware, the tablet-mode optimized taskbar has been in development for a while, as far back as Windows 11 21H2 internal builds.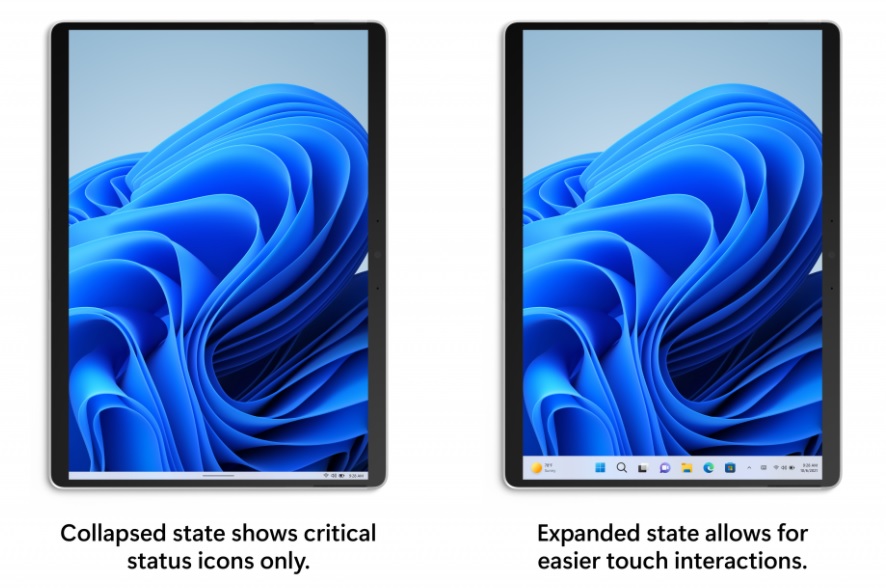 The feature was later pulled and taken back to the drawing board after users highlighted problems with the system tray. Microsoft is bringing back this feature next year with two different modes: collapsed and expanded.
As the name suggests, collapsed mode hides the taskbar, so you can have more screen space.
This is particularly useful for those with a small screen. On the other hand, the expanded mode brings back the full taskbar with options for widgets and the Start menu. To switch between the two modes, you can swipe up and down at the bottom of the screen.
It is also worth noting that Windows 11 can automatically detect 2-in-1 laptops and switch to the optimised taskbar when you remove the keyboard.
Microsoft is still working on the tablet-optimized taskbar, including a new and modern system tray with touch-friendly buttons. The drag-and-drop feature for icons in the System Tray is enabled now. This was disabled in the early internal builds of Windows 11 22H2, drawing criticism from users.
Other changes include a new search feature in Task Manager and improvements to the taskbar, such as the ability to toggle on seconds on the clock. Likewise, Microsoft is also bringing a full-screen widgets panel, which was teased last year.
Three big updates planned for 2023
According to sources familiar with the development, Microsoft is preparing as many as three updates for Windows 11. The first update lands in February or March, the second update is planned for May and the last big update is expected to arrive in the fall, similar to the Windows 11 22H2.
For starters, let's remember that this is based on rumours and Windows 11 23H2 is also on the cards, but it won't be a new version of the OS. Instead, 23H2 will be based on 22H2 and it could be delivered via an enablement package-like update.
Microsoft wants to deliver several smaller feature updates to Windows 11, outside of big feature updates.