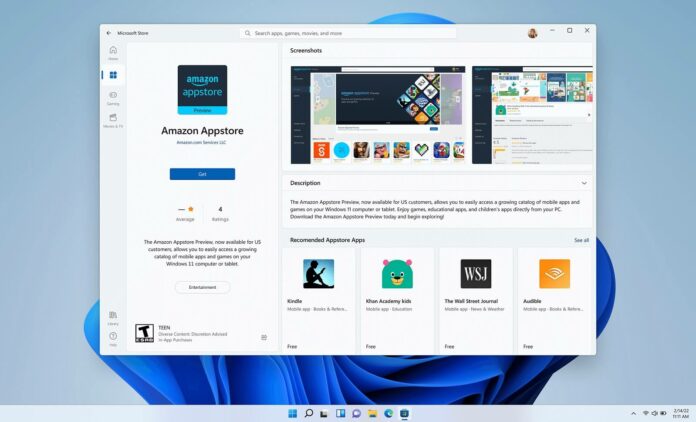 The August 2022 update for Windows Subsystem for Android (WSA) is now rolling out to users in Beta and Dev channels. With today's update, Microsoft has finally started bringing the WSA to more regions.
Starting today, Windows 11's Android Subsystem (WSA) is now officially accessible in Japan. Previously, this feature was exclusive to those in the United States and it only worked when users switched the localization to the United States. In addition to the US and Japan, Microsoft has also made Amazon's App Store accessible in Germany.
Windows Subsystem for Android (WSA) version 2207.40000.8.0 isn't a massive update, but it comes with plenty of improvements. For example, Microsoft made a change to better support apps of various aspect ratios. This change will ensure users can enjoy apps in a minimalist aspect ratio.
Microsoft is also making additional accessibility improvements to the Windows Subsystem for Android Settings app. You'll be able to easily spot or click on certain buttons which were previously difficult to read due to the background colour and the font style.
Here's the full changelog of Windows Subsystem for Android (WSA):
Fixed an issue where certain apps automatically restart before you could save your data.
A new toast notifications experience! Microsoft is testing a better design for toast notifications instead of using the existing progress toasts.
Microsoft has enabled a new game that controls user education dialog for apps.
Windows and Android VPNs should work better now.
Microsoft has fixed scrollbar fix for Windows Subsystem for Android (WSA) Settings.
Crash data is now recorded and reported when the error occurs.
Fixed an issue where the "No internet available" notification is suppressed.
Android texts now render correctly.
Amazon's AppStore has been updated to version 60.09. Support for a new region: Germany.
In addition to these quality improvements, Microsoft has also bundled Android security updates and improved the reliability of the integration.
Windows Subsystem for Android (WSA) – a little too late?
WSA technically works in all regions, but its availability has been limited to certain regions only.
For those unaware, WSA provides a proxy native app between the Android app model and the Windows app model. It also uses a virtual machine (VM) which enables compatibility for the Android Open Source Project (AOSP). In case you don't know, AOSP is a custom variant of Android that doesn't require Google Play Services.
If you want to use WSA with Amazon AppStore, you'll need to switch your region to the US. At the moment, we don't know when support for more regions will be added, but the rollout has been extremely slow this year.