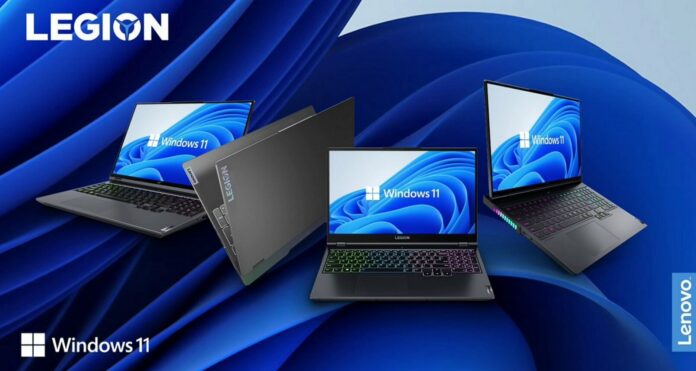 Some unlucky Lenovo laptop owners (particularly those with Legion) have apparently run into serious trouble after they installed a BIOS update which was pushed via Lenovo's Vantage app. The BIOS update, which is available on both Windows 10 and Windows 11, causes some nasty boot failures, according to various reports.
It is worth noting that only some Lenovo Legion models are affected, and that includes the Legion 5 and 7 lineup. The BIOS update version GKCN53WW causes random Blue Screen of Death Errors with a pretty vague stop code "DRIVER_POWER_STATE_FAILURE".
We've noticed various reports of issues on Reddit and Lenovo's own support forums or social media platforms like Twitter and Telegram, with complaints of boot failure – lower framerates or being stuck at a black screen after installing the BIOS update version GKCN53WW.
"I thought I was the only one. I recently noticed the system would crash at random times. I did all the troubleshooting I could but none of them seems to have told me something conclusively. I didn't have this problem with the default BIOS that came with my 15ACH6H," one of the affected users noted in the Reddit thread.
Another thread on Reddit flags potential performance issues after installing the BIOS update, with some folks claiming that their games are running much slower than usual due to reduced FPS.
"I wanted to take care of my new Legion 7 by keeping it always up to date. So, as per usual, I checked for updates in Lenovo Vantage. I saw a "critical BIOS update" – GKCN53WW. I'm not tech-savvy, so I (cluelessly) assumed updates can only help. But indeed was I wrong," another user complained of serious performance issues.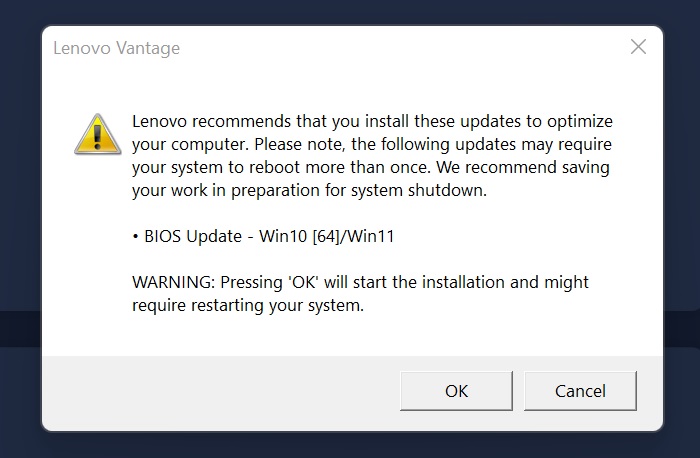 We own one of the affected machines and we can confirm that Lenovo's Vantage app is using a pop-up alert that appears on top of apps and games to recommend the faulty BIOS release.
As you see in the above screenshot, the pop-up clearly states that "Lenovo recommends you to install these updates to optimize your computer. Please note, the following updates may require your system to reboot more than once.
BIOS Update – Win10 [64]/Win11
The BIOS update is still being offered via the Vantage app and Lenovo's site, so if you're mulling that upgrade right now, you should avoid it. Make sure that you uncheck the BIOS update option when checking for updates in the Vantage app.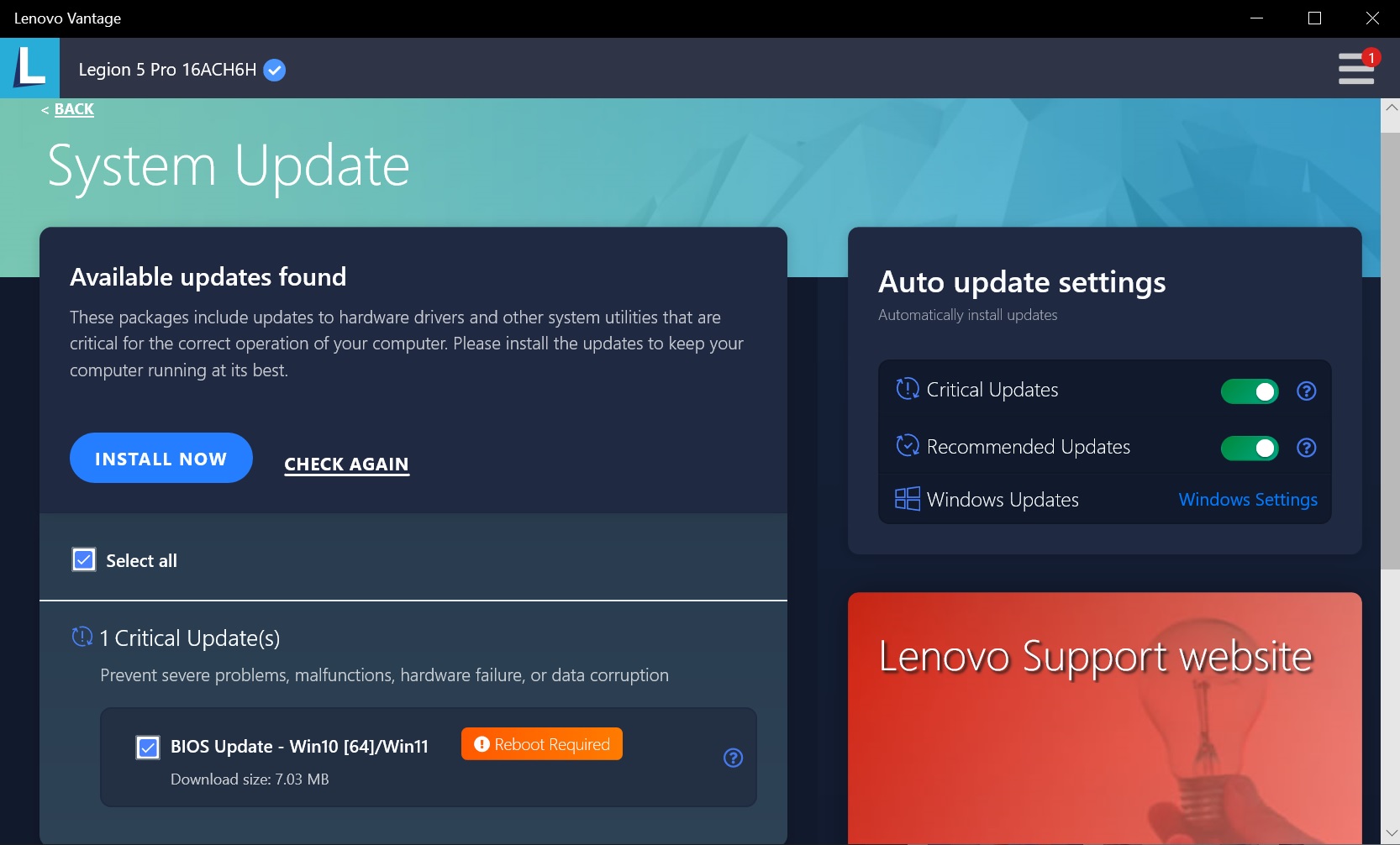 We don't know how many users are affected, but complaints are all over the Lenovo Legion community. Reports of multiple machines being and Lenovo's silence on the matter are of course worrying.
Also, this BIOS is marked as a critical update on Lenovo's website, so there's a chance that many clueless users installed it without doing any research.
How to uninstall Lenovo Legion BIOS update GKCN53WW on Windows 10 & 11
This BIOS update sounds like a nasty mess, but since we're talking about Windows, there is an apparent workaround.
As described on several of the above threads and confirmed by us, removing and reinstalling the previous BIOS could resolve the problem. However, this may or may not work for everyone, so if you do give this workaround a whirl, you're doing it at your own risk.
To go back to the previous BIOS update, simply download and run the stable BIOS version (GKCN50WW).
If you're unable to downgrade BIOS directly from the setup, make sure the device allows flashing of BIOS to a previous version. To do this, enter the Lenovo BIOS Setup Utility from the boot menu and look for an option related to rollback or flashing of BIOS, and set it to "Yes".
Press F10 to save the configuration settings and exit, and perform the BIOS downgrade again. While downgrading the BIOS, do not shut down the device in the middle of the process as it can cause serious damage to the system.
Another option might be to wait for Lenovo to acknowledge the mess and hopefully issue an emergency fix. This is assuming you can deal with the described problem or you have a backup device.