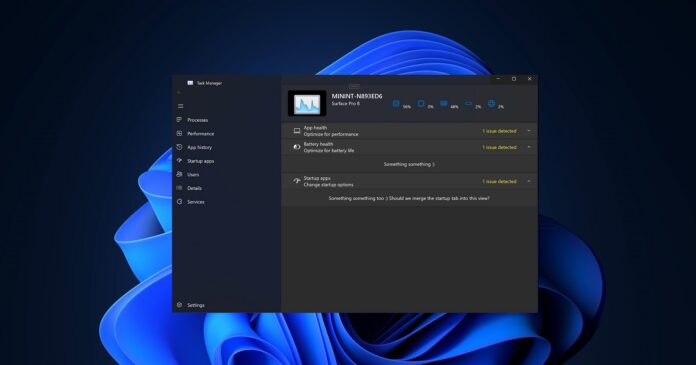 While so many native apps and services have been given a makeover with Windows 11 or even Windows 10, a modern look for Task Manager is long overdue. With Build 22543, Microsoft quietly made a big change to Task Manager, which remains the most useful tool on Windows 11.
Microsoft is experimenting with a redesigned Task Manager for Windows 11 and it has been spotted in the preview builds. This new look has been made available to Microsoft officials only, but it is possible to try out the half-baked new Task Manager by modifying the system files.
As you can see in the below screenshots, Task Manager's refreshed design matches the interface of Windows 11 and other native apps like Microsoft Edge or Settings. After the update, Task Manager uses WinUI, Fluent Design and Mica material (which is a new translucent design element).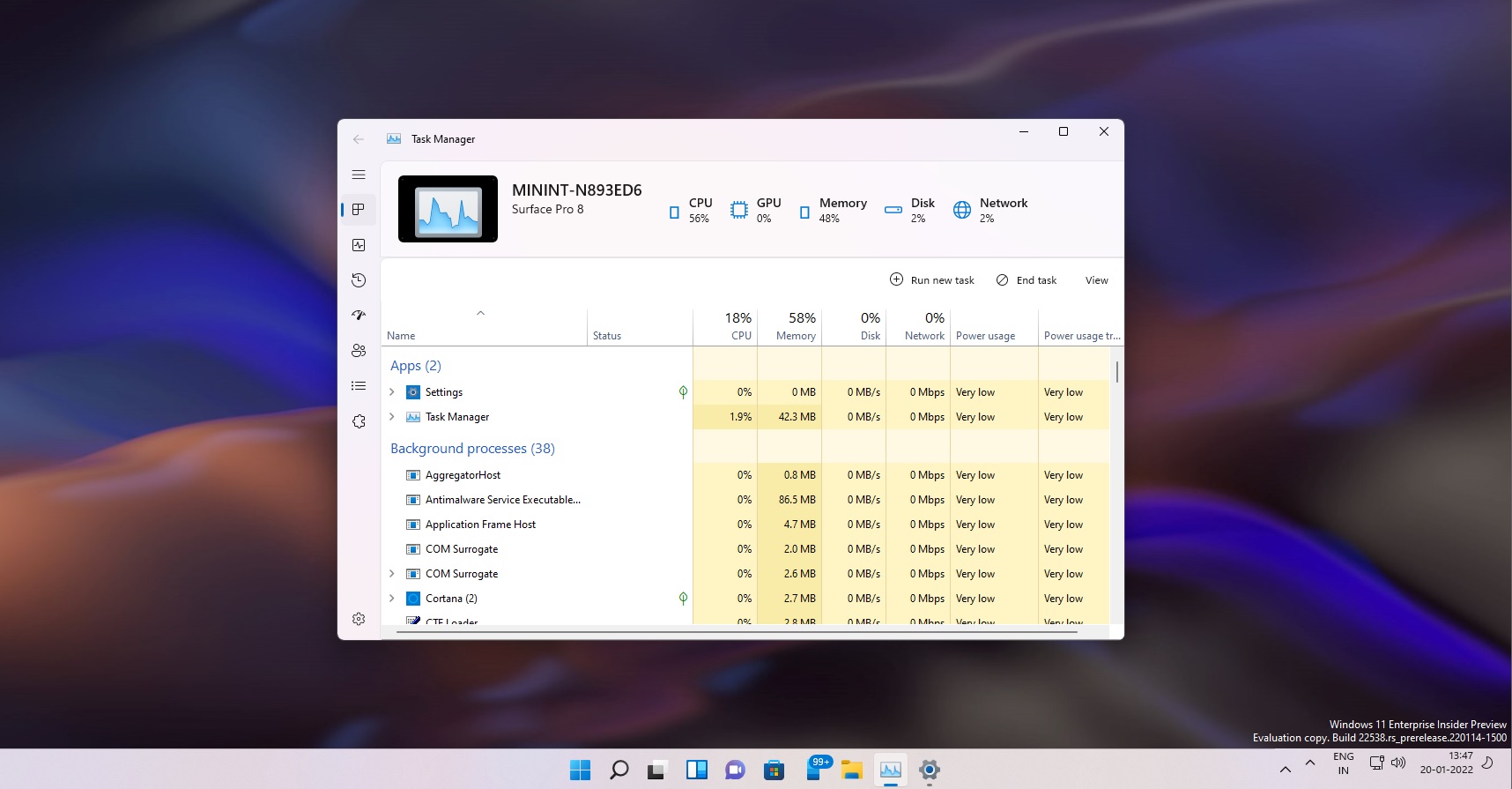 Additionally, Microsoft has also tweaked the base interface of Task Manager by moving options like processes to a new menu. These options were previously offered at the top of the Task Manager. In the new design, you will find these options on the left-hand side menu, similar to Settings and other modern Windows 11 apps.
Thanks to a teardown of the leaked Task Manager, we've also got some hints at what's coming next in terms of new features.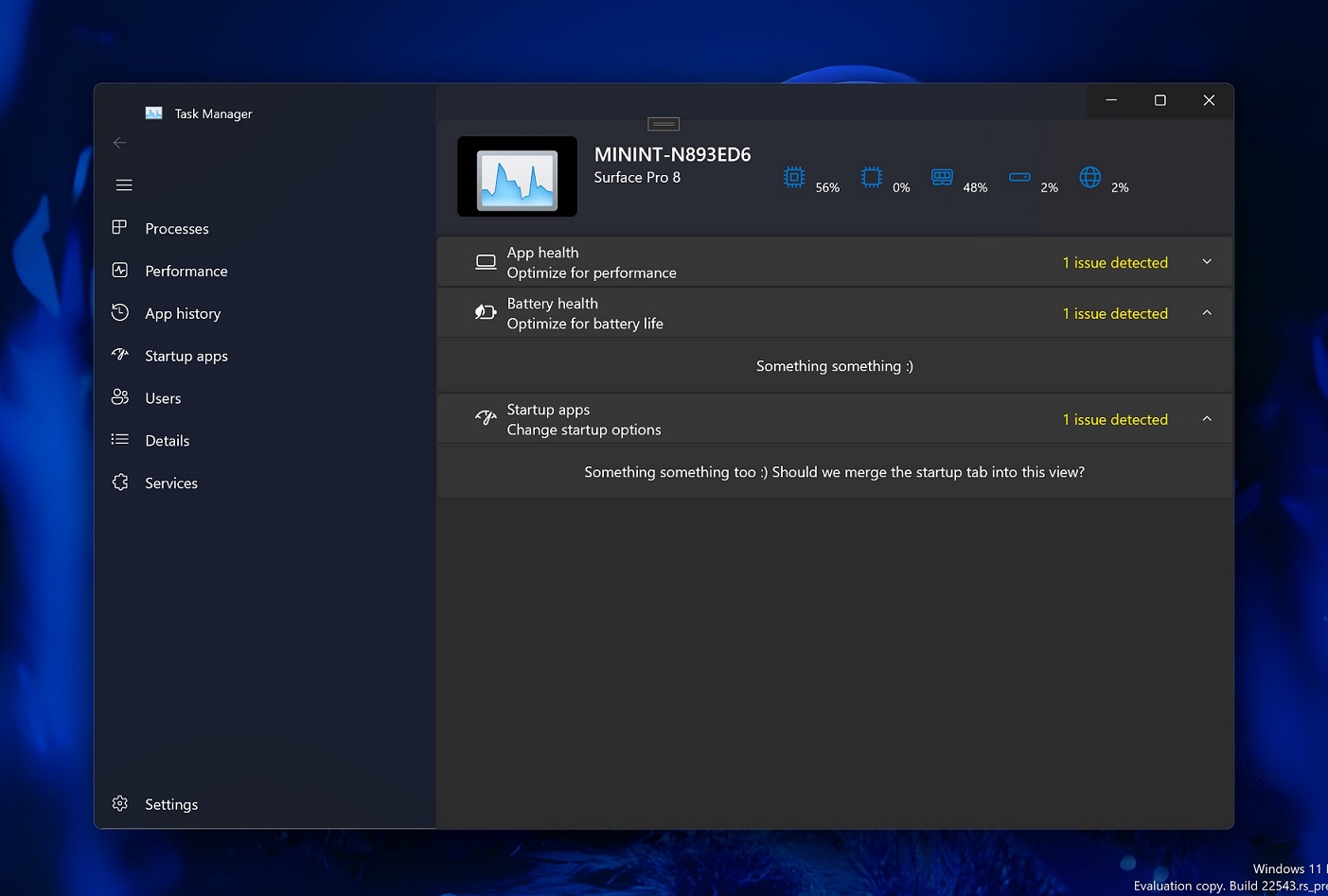 One of the interesting discoveries in preview builds is a new feature for monitoring the health of your apps using Task Manager. A feature seemingly titled "App health" would help users know when their app needs to be fixed (if it is not responding).
Likewise, there'll be a new "Startup apps" section to help users identify apps slowing down the device during boot.
For laptop users, Task Manager update will include another feature called "Battery health" which would help users know the current status of battery when they're running resource-intensive apps.
Laptop battery health has been on users minds more often over the past couple of years, particularly after the release of Windows on ARM and Apple M1, so this new feature could be useful to some folks.
Notably, these monitoring features are also offered on Android phones and it's great to see Microsoft giving these mobile features a bit more attention in Windows.
It's worth mentioning that the company hasn't announced the new Task Manager yet and the leaked version is not fully functional.
Task Manager is quite buggy in the preview release, so it may be a good idea to skip Dev Channel builds if you frequently use Task Manage to close unresponsive programs.