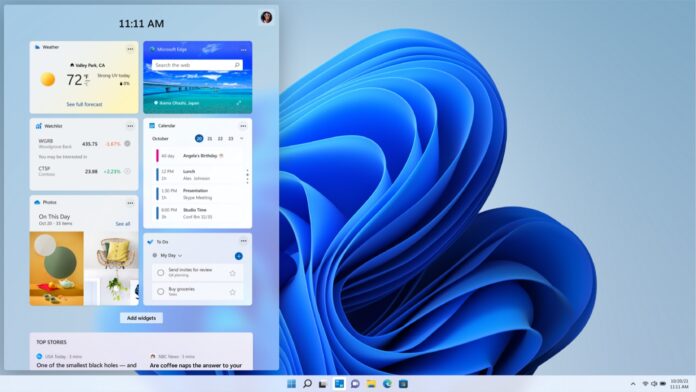 Windows 11 version 22H2, otherwise known as Sun Valley 2, is set to finalize in a few months for late summer rollout. Codenamed Sun Valley 2, this would be the anniversary update for Windows 11 and it will focus on quality improvements to polish the existing user interface.
As you're probably aware, Windows 11 ships with a redesigned Start menu and taskbar experience, and several basic features are missing. For example, you cannot easily dismiss the "recommended" in the new Start Menu. It is also not possible to increase the number of app icons in the Start menu.
Likewise, Windows 11's flagship feature "Widgets" board feels incomplete and it doesn't support third-party widgets at the moment. You can only manage widgets like Microsoft Calendar, Movies & TV and Microsoft To-Do, but this is going to change with Windows 11 Sun Valley 2 in the second half of the year.
New developer guidelines, which appeared on Microsoft's website, has confirmed that a future Windows 11 update will substantially improve the widgets panel by adding support for third-party widgets.
The support document suggests that these third-party widgets are going to be web-based and Microsoft isn't planning to offer Win32 or UWP widgets via the widget board for now, but this could change in future.
Interestingly, it looks like third-party widgets can be installed without the Store. As per the doc, publishing web widgets to Microsoft Store would provide enhanced discovery in the Microsoft Store or widget board. Developers can publish a Windows app widget through the Store and the process would be the same.
App extension manifest is used to register widgets with the Widget board.
MSI install code does COM registration and calls Widget Registration APIs at install time.
Web widgets are supported, more to come later.
Additionally, there's mention of "Adaptive Cards" in the documents, which are "platform-agnostic snippets of UI" designed for integration into Host experiences like Widgets. The Adaptive Cards are automatically styled to match the Host experience, ensure low memory and CPU usage, and more.
It is possible that Microsoft is already working on new widgets with a small group of developers and public testing should begin in a few weeks as Microsoft wants this feature to be ready for Windows 11 Sun Valley 2.