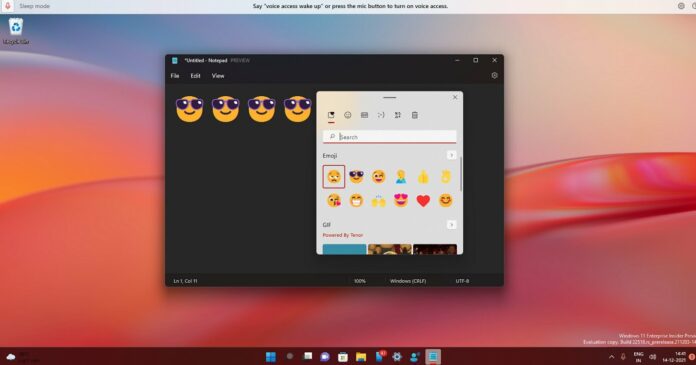 The next feature update for Windows 11 is not expected until October 2022, but the improvements will slowly start surfacing in the preview builds. Microsoft is currently working on a few new features and user interface (UI) tweaks for the OS, including a brand new Voice Access feature.
Despite still not having a confirmed version number, the next feature update for Windows 11 has always been leaked by the tech giant. In one of the retracted support documents, Microsoft noted that Windows 11 version 22H2 would be the next major update for the OS and there won't be a 22H1 release.
Windows 11 22H2 is believed to be a part of the Nickel development branch (which has already been sent out to testers) and it will bring back features like drag-and-drop. This update is also expected to add new personalization options to the Settings app, and a new voice control tool.
Voice Access
Microsoft is experimenting with a new voice control tool called "Voice Access" to help people control their desktop. This feature has been designed to help people with mobility disabilities by allowing them to control their desktop, open files, select texts, double-tap,  right-click, and more using their voice.
As you can see in the below screenshot, you can access Windows 11's experimental Voice Access feature by heading to Accessibility Settings.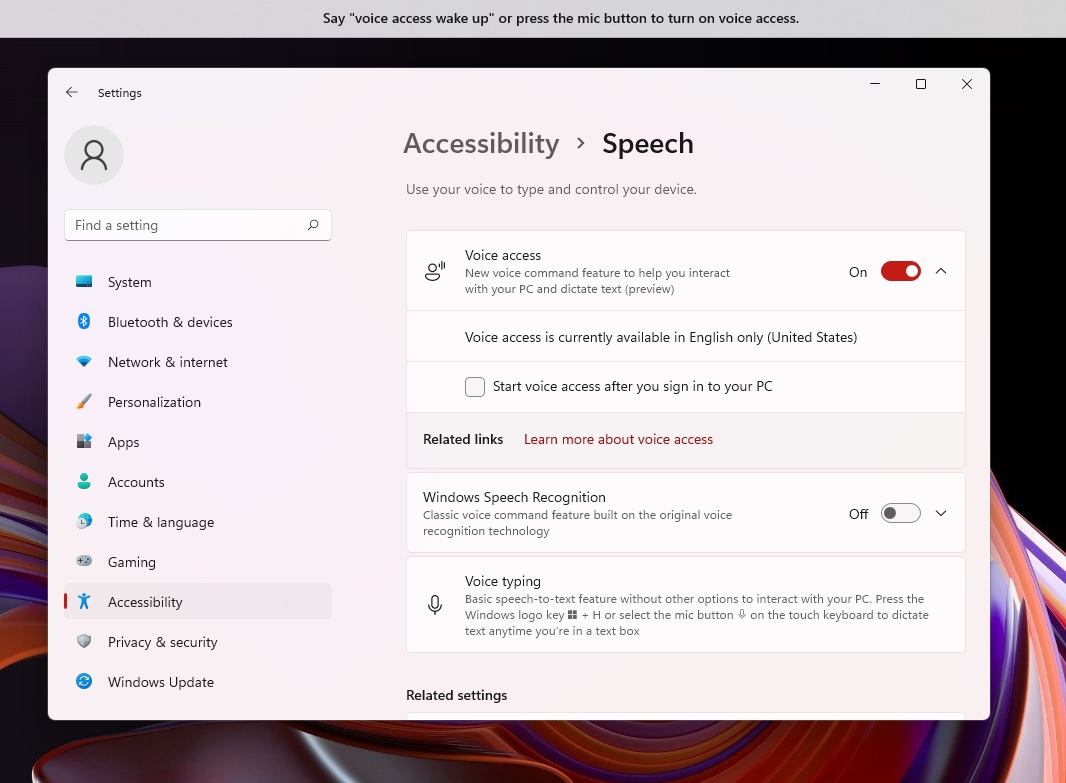 The Voice Access requires a speech model which is downloaded from the Microsoft Store when you enable the feature. Once it is downloaded, simply select a microphone of your choice and it will be used for Voice Access.
If you followed the steps correctly, you can start using your voice to control the PC with just one tap.
Voice Access is in the early stage of development, but it already supports all basic features, including commands to open or switch between apps. You can also use your voice to browse the web, read and write emails.

Voice Access is powered by the company's existing device speech recognition and it currently supports English-U.S. language only. In order to use Voice Access, you will also need to switch the device's display language to English-U.S.
Voice access may not work well if your display language is set to English U.K or any other language.
Microsoft has confirmed support for the following Windows voice commands:
Open [app name]. For example, you need to say "Open Edge" or "Open Word" to open the app.
"Minimize window," "Maximize window," "Close window" to manage your windows.
You can also click an item or open a link with these commands: "Click Start," "Click Cancel".
Other supported commands include "Right-click Start", "Double click Recycle Bin",
"Scroll down" or "Start scrolling down", "Press Escape", "Press and Hold Shift", and more.
Faster Input Switcher
As you're probably aware, Windows 11 comes with a new input switcher (popup menu that lets you switch between language packs installed on your device).
Microsoft is making changes to the underlying platform behind the input switch to improve overall performance and help people easily switch between multiple keyboard languages and layouts.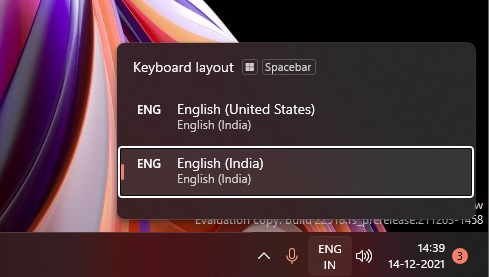 Additionally, Input Switcher now comes with support for Windows 11's Fluent Design (acrylic background material).
Emoji panel is getting new features
Windows clipboard's emoji section was recently refreshed with a new set of Fluent emojis and Microsoft is now trying to diversify the emoji collection by adding support for additional skin tones.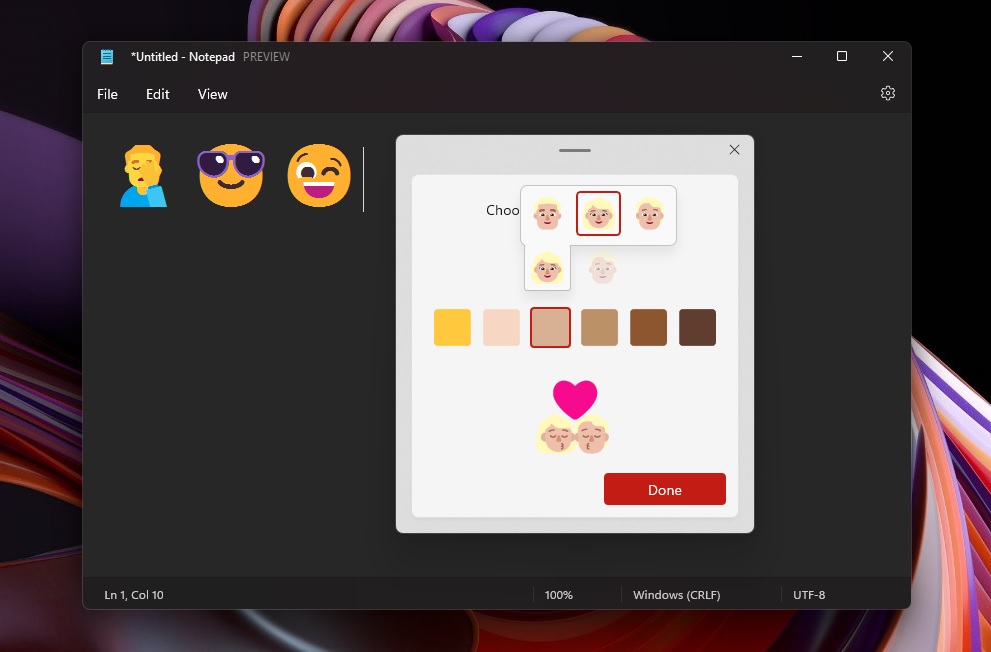 You can share emojis based on the skin tones of family members. As you can see in the above screenshot, it is now possible to personalize emoji like couples with heart, kissing, and people holding hands, etc.
Other improvements in the preview update:
File Explorer's context menu now comes with support for additional top-level buttons.
Desktop spotlight support.
Weather widget on taskbar.
Better video encoding in third-party apps like Adobe or Filmora, thanks to the new API.
As we mentioned at the outset, it is important to understand that these new features are still under development and a stable release is expected in October or November 2022.