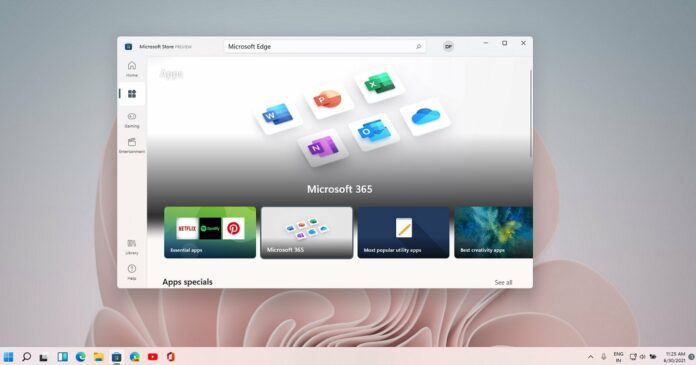 Windows 11 is arriving later this year with a reorganized start menu and redesigned notification center experience. Unlike the previous Windows 10 updates, Windows 11 offers a number of new features for consumers and it also opens new opportunities for developers or businesses.
The new OS comes with a rewritten Microsoft Store which has clearly been optimized for all developers. According to Microsoft officials, Windows 11's native app store will allow apps built on almost any framework. The list of supported frameworks includes Win32, .NET, Java, UWP, and web apps too.
For Win32 apps (traditional .exe programs), Microsoft will let developers submit their unpackaged Win32 apps in the Windows Store. Your favourite .exe programs that use custom content delivery networks for hosting and for updates are also allowed, but there's a catch.
It appears that there'll be no updates for unpacked Win32 programs in Windows 11's Microsoft Store. According to Microsoft Store documentation, users will not be able to receive updates for those Win32 apps from the Store. If you download unpacked Win32 apps from the Store, they can be updated directly via the developer.
"Updates to Apps are not required to be submitted through the Store. End users will not be able to receive updates from the Store. Apps can be updated directly by You via your App that is installed on a Windows Device after download from the Store," the tech giant noted in the official documentation.
This policy applies to unpacked Win32 apps only. Win32 apps like Spotify will continue to receive updates, and developers will have the choice.
Additionally, Microsoft is also allowing developers to publish a simple installer for their apps on the store, which allows anyone to download and install the app.
On Twitter, Microsoft's Rudy Hyun confirmed that the company wants to be "very transparent" about apps listed in the Store. If an app is an installer and it cannot be updated via the Store, users will see a text below the app name:

You can decide to install or not an app based on who updates it, Microsoft said.
It's worth noting that developers can still publish new versions of their apps in the Microsoft Store, but these unpacked Win32 apps cannot be updated through the Store. If you want to update that app, you need to rely on in-app updates.
At the moment, it's not clear if the Store will approve Win32 apps that don't support in-app updates.