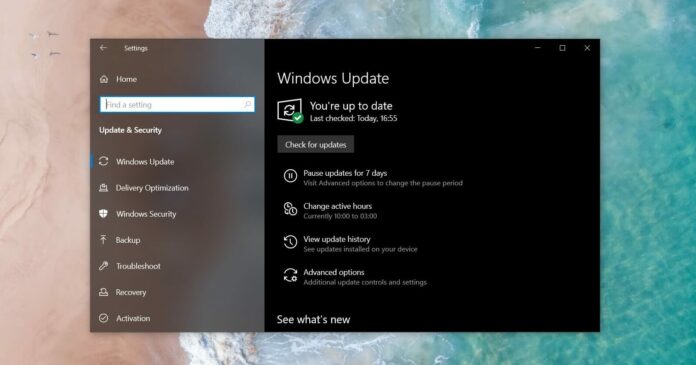 Windows 10 KB5001396 update is now rolling out to PCs running version 1909. For those who prefer manual installation over Windows Update or WSUS, direct download links for Windows 10 KB5001396 offline installers are also available.
KB5001396 is an optional update designed for those with Windows 10 version 1909. Since it's an optional update, it won't be downloaded and installed automatically unless you click on the install button. Plus, if you decide to skip the patch, you'll get the same set of bug fixes in the next month's Patch Tuesday.
For those on Windows 10 version 20H2 or version 2004, you'll be getting a different update with the same set of bug fixes. If you check for updates on version 1909, the following patch will appear under optional updates section:
2021-04 Cumulative Update Preview for Windows 10 Version 1909 for x64-based Systems (KB5001396)
To download and install Windows 10 Build 18363.1533, simply follow these steps:
Open the Windows Update page and check for updates.
A new update will appear on your screen.
Click on "Download and install".
Select "Restart now" after the patch has been downloaded.
Restart your computer.
Once done, your device will reboot for one time and this month's cumulative preview update will be applied to the system. If you run into installations issues or other problems, simply retry the process or manually download the offline installer from the Microsoft Update Catalog page linked below.
Download Links for Windows 10 KB5001396
Windows 10 KB5001396 Direct Download Links: 64-bit and 32-bit (x86).
Windows 10 KB5001396 (Build 18363.1533) Full Changelog
For the past few months, Microsoft has been testing a new feature named "News and Interests" that will show news stories, weather information and personalized suggestions on Windows 10 taskbar.
With the KB5001396 update, Microsoft is bringing that feature to Windows 10 version 1909.
After the update, a new icon will appear on your taskbar. You can click on it to access the feed. Of course, news, weather and everything else can be personalized, which means you can follow or block publishers and topics.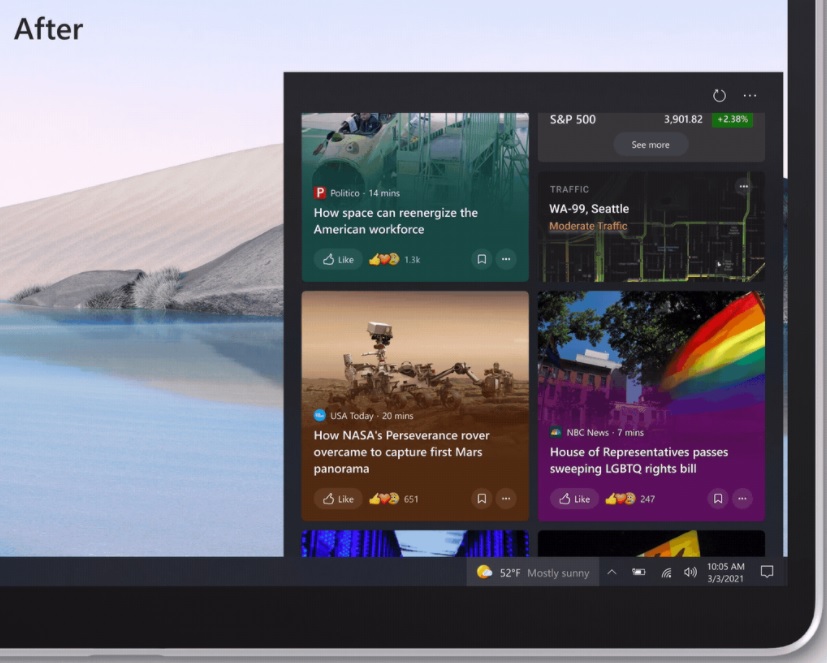 In our tests, we observed that this feature is part of Windows Shell Experience, which means it cannot be rolled out to users via a server-side update. It also means that it cannot be removed from the system completely.
Of course, this feature is optional and users can hide it, but it can't be uninstalled.
Currently, Microsoft is planning to use its news network to offer relevent stories from global news brands, such as CNN and FoxNews. Microsoft will also use its AI and ML expertise to automatically customize your feed, but users can always dismiss a story by clicking on the three dots menu.
In order to use News and Interests feed, users must meet the following requirements:
Install latest updates.
Install Chromium-based Microsoft Edge.
Region: US, UK, Canada, Australia and India.
I've been using the News and Interests feature in the Insider builds for nearly two months the time, and I can say that it works as advertised.
In addition to the taskbar feed, Windows 10 Build 18363.1533 also comes with general performance and quality improvements. For example, Microsoft has added a new option that will help you configure the idle time before a mixed reality headset goes to sleep.
It's also worth noting that this would be the last optional patch as Windows 10 version 1909 is reaching the end-of-servicing period in the second week of May.