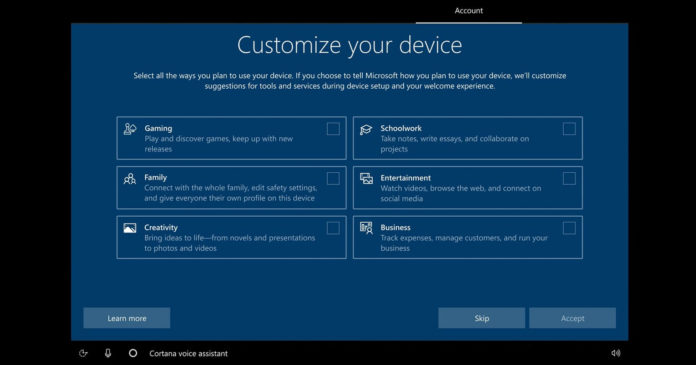 Any time you buy a new PC, reinstall Windows 10 or install a big feature update, you're going to walk through Microsoft's blue background "Out of the Box Experience" or OOBE screen.
In an OOBE screen, you have the choice to configure your system settings for privacy and additional Microsoft services. For example, you'll be asked for your preferred Microsoft services, language or keyboard layout.
Other options in Windows 10's OOBE screen includes Microsoft account, Cortana, privacy settings, and whether you want to create an OneDirve account to sync your content across your devices.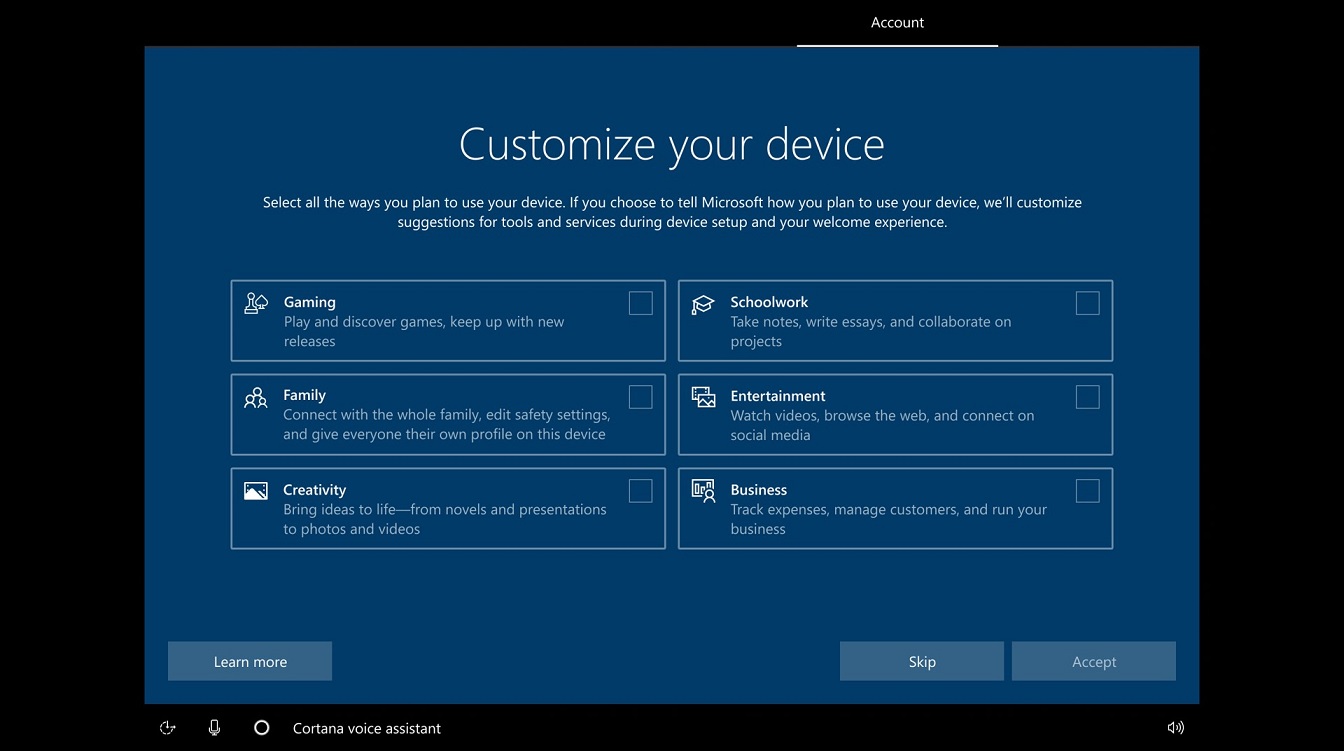 In preview builds, Microsoft is now experimenting with a new OOBE page that will allow Windows 10 to understand your device usage and recommend appropriate services or tools.
This feature is likely to remain optional for now but it will pop-up on your device after the next feature update.
As you can see in the screenshot above, Windows 10 will allow you to select various ways you plan to use your device. Based on your interests, Microsoft says it can offer suggestions for tools and services.
Microsoft is currently testing the following customization options:
Gaming: The games that you play or you may want to play. Microsoft's suggestions will help you stay up-to-date about new releases.
Family: Microsoft will help you connect to your family members in your Microsoft account. These suggestions will also help you edit safety settings, and give additional information about profiles on the device.
Creativity: Apps, presentations or videos that bring ideas to life.
Schoolwork: Your notetaking apps, collaboration tools, etc.
Entertainment: Streaming, music, web browsing and social media.
Business: Manage your organization or customers, personal expenses, and run your business.
This new experimental feature suggests that Microsoft wants to better understand how you plan to use Windows 10 and help you in customizing your device.
For example, if you select 'Gaming' and 'Creativity' as your interests, Windows 10 will begin showing recommendations for appropriate services or tools, such as Xbox Game Bar.
We don't know if Microsoft will also recommend third-party tools and services.