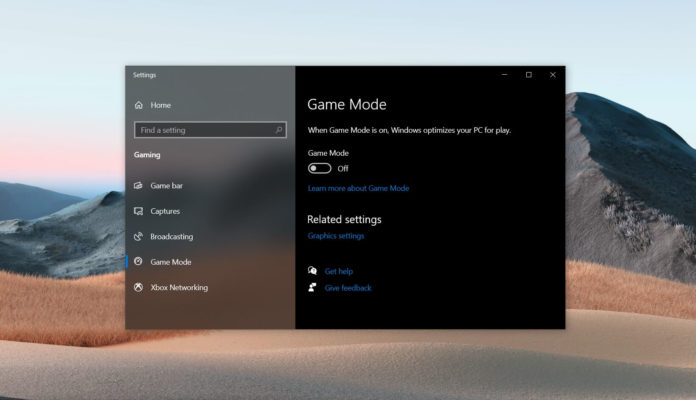 If you're having problems, stutters, FPS drops and performance issues in certain games, you should consider disabling Game Mode. Windows 10's Game Mode is a feature that prioritizes CPU and GPU resources to improve game performance. Unfortunately, this feature is also a terrible setting for certain games and drivers.
Users are reporting that Windows 10 Game Mode could negatively impact gaming performance on some hardware. Gamers noted that their computer with both Nvidia and AMD configurations have been affected.
One user said that Radeon RX 5700 XT, RX 480, R9 290 and other AMD models are struggling with performance issues when Game Mode is enabled. The feature is hurting the performance of Nvidia GPUs such as GTX 980 and GTX 1080 Ti GPUs.
"[Turning off Game Mode] totally just fixed all the crazy stuttering I was getting in Destiny 2! The game would basically freeze for 70ms whenever I got into an engagement in the crucible. Now it's rock solid," a user noted.
Many users are experiencing stuttering and freezes when they turn on Game Mode. Games such as Call of Duty: Warzone and League of Legends are getting hit with sudden frame rate drops, stuttering and other performance problems due to Windows 10's feature.
It's not clear how the Game Mode is causing the issue, but an employee working for AMD's Radeon Technologies Group said that their engineers investigate the problem.
It looks like the problems aren't limited to a particular type of graphics card and the issue could be associated with a particular driver or Windows 10 update. As we highlighted above, users with both Nvidia and AMD products have been affected.
It's also worth pointing out that the impact is noticeable in particular titles and it does not appear to be a global issue with every game. The titles supposedly impacted include Call of Duty lineup, Destiny, League of Legends and other popular games.
If you are affected by this problem, open the Settings and click on 'Gaming'. Look for Game Mode option and disable it and wait for a new patch to be released.
No non-gaming performance impacts have been reported, so if you aren't a gamer, you may not have anything to worry about.