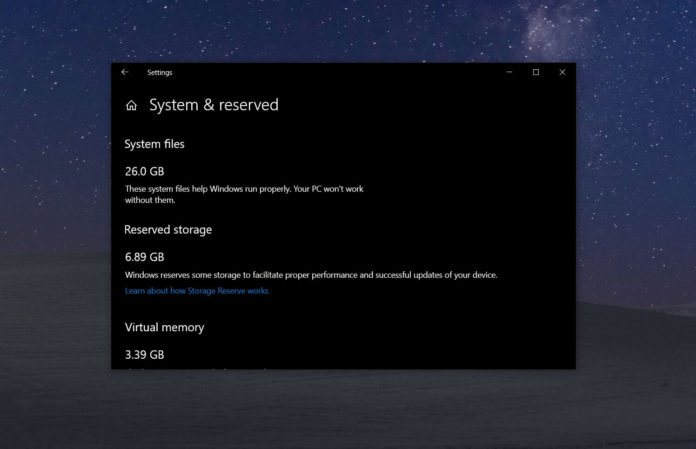 Microsoft's Windows 10 May 2019 Update (version 1903) was shipped with a new feature called 'reserved storage', which reserves a portion of system storage to ensure that Windows Updates and drivers will work reliably when space is low.
Introduced with the May 2019 Update, Reserved storage is apparently here to stay and it is supposed to use around 7GB of drive space by default, but the amount could grow larger when you add optional features, install additional drivers or enable new language packs.
While Microsoft says reserved storage will ensure that updates are smooth and that you don't run into any critical storage options, many uses might not be happy with reserved storage, especially on devices where PC manufacturer offers their own recovery drive that occupies up to 15GB of space.
Users have previously been able to get rid of reserved storage by tweaking Registry, but as you may be aware, editing Registry can cause severe problems. One wrong edit in Registry can render a Windows machine unusable or unbootable.
Fortunately, Microsoft is planning to introduce a new tool in Windows 10 v1903, v1909, and v2004 to make this process safer via the command line.
Users will be getting updates to (DISM) tools that will give them greater control over reserved storage. The updated command line-based DISM tools will be available in Windows 10 version 1903, 1909 and 2004 later this year.
With DISM support, you'll be able to find out whether a PC is using Reserved Storage. You can also use it to enable or disable Reserved Storage.
In the near future, you will be able to type the following commands in Command Prompt to manage reserved storage:
DISM.exe /Online /Get-ReservedStorageState
DISM.exe /Online /Set-ReservedStorageState /State:Enabled
DISM.exe /Online /Set-ReservedStorageState /State:Disabled
According to Microsoft's Steve DiAcetis, this feature is already live preview builds of Windows 10 20H1 and the company is planning to bring it to earlier releases soon.
"These new commands are only available with Windows 10, version 2004. We are looking at bringing them to earlier releases, but I don't have a time frame to share right now," DiAcetis said.
This is a useful tool that will finally help you reclaim your reserved storage and it should roll out to everyone later this year.