Update for Windows Defender broke the antivirus scans on Windows 10, with the antivirus protection software reporting error "Items Skipped During Scan". For many users, Windows Defender scans are failing after a couple of minutes, confirming that "scan was skipped" and no threats were discovered on the device.
It's not clear what items were skipped during the scan by Windows Defender and we also don't know if Microsoft's antivirus software is able to detect any threats on Windows 10.
It's possible that Windows Defender warnings are false and scans were performed successfully. In our testing, both manual and automatic scans are failing with the following error message:
Item skipped in scan, due to exclusion setting, or network scanning disabled by admin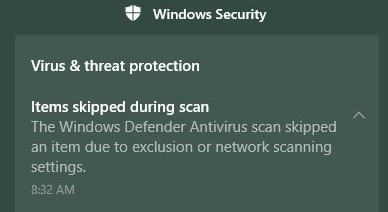 Windows Defender version 4.18.2003 or newer apparently introduced this bug when Microsoft was trying to fix other issues. The problem is specific to Windows 10, as other Windows operating systems including Windows 7 and 8 are not affected by this glitch.
"I do get that message with a manual quick scan or with a full scan. It happens whether/not I turn off Cloud-delivered Protection or Controlled Folder Access. I didn't try the other settings. I've got no folder excluded," one user reported.
"It seems like something caused the notification settings with the latest update to get weird. I did a scan with malwarebytes after and found nothing. I did also do a sfc /scannow and it found a corrupt file which seems to be related to OneDrive but that seems unrelated," another poster noted in Reddit.
According to the error message, Windows Defender Antivirus scans are skipped due to an item's exclusion or network scanning settings. Since the exclusion doesn't appear to be the issue in user reports, it's likely to be associated with a particular defender update or other updates pushed by Microsoft and device manufacturer.
Microsoft has yet to document problems with Windows Defender, but it appears that the offline scan feature is working without any issues at the moment.