Microsoft is continuing its development of a folding device and more hints have been dropped in a new patent application uncovered by us. A new patent from Microsoft has revealed how a foldable phone could use a hardware-based orientation-specific actuator to control its functionality.
Spotted by us, the patent titled 'ORIENTATION SPECIFIC CONTROL' was filed by Microsoft in 2018 and published by USPTO on July 18, 2019. The patent is entirely about orientation-specific control of the foldable mobile device.
The patent application describes a new way to control a foldable device in various orientations.
Microsoft says the patented device includes an orientation-specific actuator. This technology provides a first functionality related to a first orientation of the computing device in response to the engagement of the orientation-specific actuator. Similarly, the device also provides second functionality when the orientation-specific actuator is engaged in an activity.
"The present concepts relate to orientation specific control of a device. In some implementations, different functionality for controlling the device can be accessible depending on an orientation of the device, such as a closed or an opened orientation. An example device can be a foldable computing device," Microsoft noted in the patent document.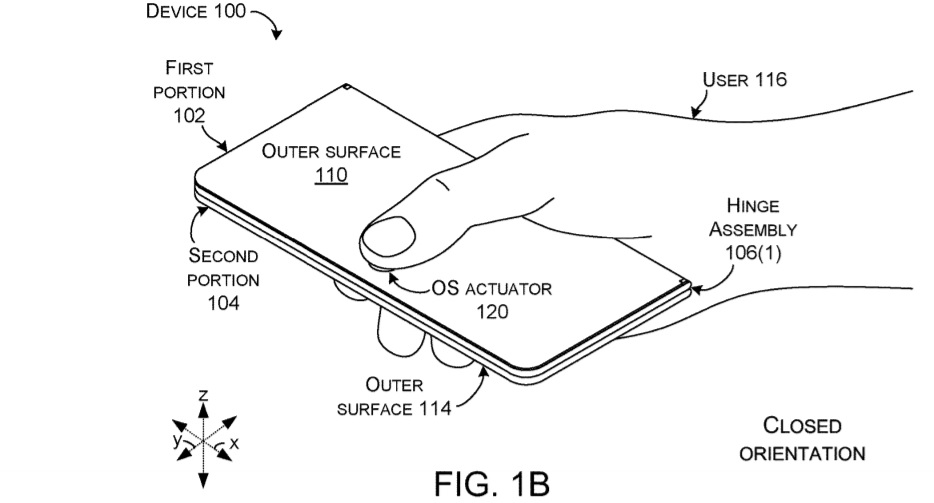 Microsoft could be adding a multifunction button to the body of the dual-screen device. The multifunctional button will control various activities when the foldable tablet is held open in other positions. For instance, in some cases holding the orientation-specific actuator can power the device off from a powered-on state, while clicking the orientation-specific actuator can place the device in sleep mode.
"Engaging an orientation specific actuator (e.g., a button) of the device while the device is in a closed orientation (e.g., folded together) can effect a first range of functionality. However, when an orientation of the device changes, the functionality accessible via the same orientation specific actuator can also change. For example, when the device is in an opened orientation, engaging the same orientation specific actuator can effect a second, different range of functionality. As such, orientation specific control concepts can provide increased flexibility for components of a device and/or simplify the user experience," the patent reads.