Microsoft might be adding an Office app key to physical keyboards for Windows 10 PCs or laptops. In addition to the Windows key, the future keyboards from Redmond may also come with a dedicated Office key that will let you access Microsoft's Office suite and associated shortcuts.
Like the Windows key, a dedicated Office key may help users quickly launch the productivity suite.
An internal survey about Office key was also spotted online to determine the usefulness of an Office key on PC keyboards. The idea hasn't been finalized yet and Microsoft's form is gathering suggestions or feedback from users.
The feedback form is for users (?employees) who have experimented with keyboards that have a dedicated Office key. Microsoft has also included a concept image of the key on a keyboard.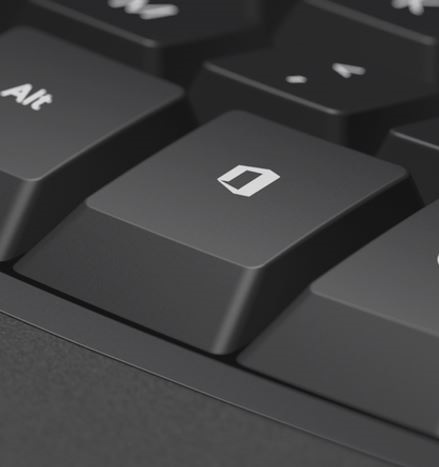 As per the concept render, the Office key would be located next to the alt key on the left side. If such a key is introduced, the new layout of the keyboards could be – Windows Key, Alt, Office key and Space bar.
The form, which is part of an internal survey at Microsoft, also gives us a little bit of insight into the new keyboard key.
The Office key would introduce new shortcuts on Windows and you'll be able to launch a particular Office app with a keyboard combo. For instance, Office Key + W and Office Key + P will launch Microsoft Word and PowerPoint respectively.
The following shortcuts will be supported:
Office key + O, W, T, P (?OneNote, Word, Teams, PowerPoint).
Office key + X, D, N, Y, and L.
We have no clue as to what all these shortcuts does, but these shortcuts could launch apps or perform a particular function as well. For example, Office key + S hotkey would share a document.
It's an interesting idea and a dedicated Office key could be useful for businesses or students, as Office is the most widely used software suites.
If the idea is brought to production, the manufacturers have to dedicate more space to integrate this button into the existing keyboard layout.