Microsoft is adding another new feature to Chromium browsers (Edge and Chrome) that would allow you to quickly pause a YouTube or media content playing inside the browser.
Windows 10 has two volume features – volume slider and media overlay. Unlike the volume slider, media overlay allows you to pause the playing content or change the track. You may have noticed media overlay controls on the left side of the screen when you pause or adjust the volume of a Spotify music through hardware keys.
Microsoft Edge has been updated with the same feature and the browser can even sync the thumbnail from YouTube content. The pop-up with the name of the YouTube video and controls appear on the left side.
You can control volume or pause YouTube directly from the Windows 10 media controls overlay, but you cannot change the track or video.
Although it takes up a small chunk of the screen, the media overlay controls are actually helpful. It disappears when you close the YouTube tab and reappears when you play an audio or video in a new tab.

In a Reddit post, a Microsoft engineer confirmed that this feature was recently added to Edge Canary and Chrome Canary.
"I'm the developer at Microsoft that worked on this feature. I'm so happy to see so many people enjoy it. As some people noticed, this is also working in Chrome canary. I worked with a couple engineers at Google to implement this in the Chromium project," the engineer noted.
If you don't like media overlay controls, you can disable (Hardware Media Key Handling) on flags menu and it will disappear after you relaunch the browser.
Other improvements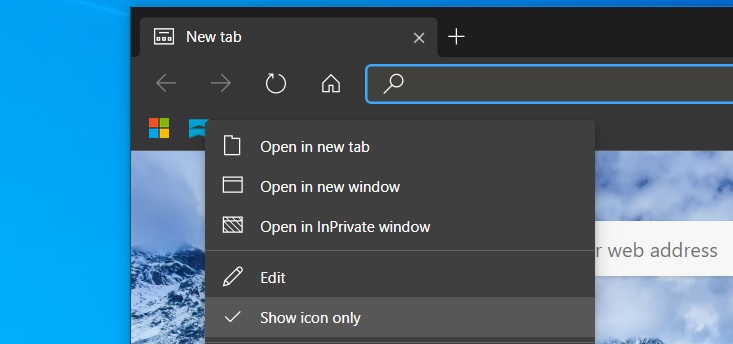 Microsoft is also testing several other improvements for Chromium-based Microsoft Edge, including an option that makes managing favourites a little bit easier.
In Edge Canary, you can now right-click on favourites and enable the icon only mode.
Once enabled, you'll only see the icon of the website instead of the entire name. This makes the favourites bar look clean and also saves space on the bar.