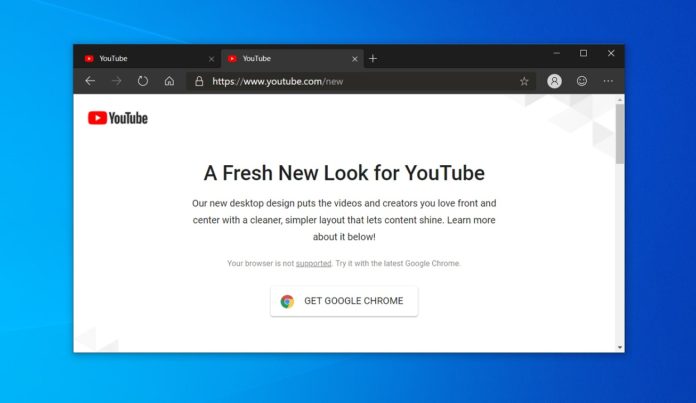 Chromium-based Edge has been hit by a new glitch when running Google-owned YouTube. Some folks today noticed that YouTube opens with the classic interface in Edge browser and the new design is no longer available for some unknown reasons.
Google Meet, Google Docs and Google Drive were also marked unsupported in Chromium-based Edge. Today, Chromium Edge users have been confronted by a similar error informing them that YouTube's new design is not available in the new browser.
YouTube throws up an error message when trying to access it from the new Edge. "Your browser is not supported. Try it with the latest Google Chrome" reads the message. The message recommends you to download Google Chrome or switch to any other supported browsers.
YouTube says it only supports Chrome, Firefox, Safari and (old) Edge. What's more surprising is that YouTube had no issues until yesterday and this problem only popped up earlier today.
You can still go back to the YouTube homepage and browse the outdated classic look of the streaming service.
Google or Microsoft hasn't acknowledged the problem, but it is likely to be another oopsie at Google's end and it should be fixed in the next few hours.