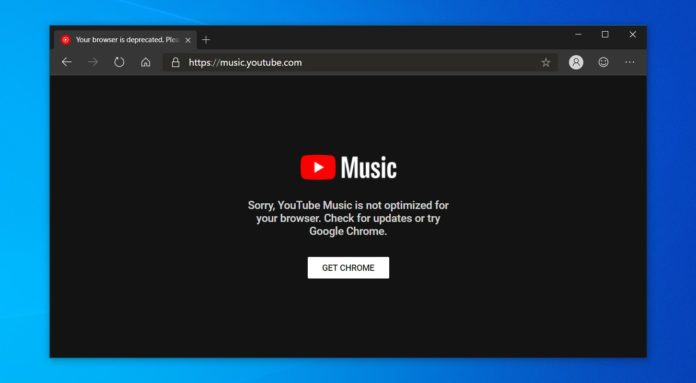 Microsoft Chromium Edge is off to a steady start and browser has been praised by the community. While Google welcomed Microsoft to the 'open-source' Chromium community, some of the big services owned Google is not functioning properly in the new Edge.
Earlier today, users spotted that YouTube's new design is not supported in new Edge. It turns out that Google has also not whitelisted the Chromium Edge browser on YouTube Music and you cannot use the music streaming service in the new browser.
If you visit YouTube Music in Microsoft Chromium-based Edge, you'll be greeted by the error message "Sorry, YouTube Music is not optimized for your browser. Check for updates or try Google Chrome" and the service is not accessible.
Although the browser engine is same as Chrome, Google's services appear to maintain a whitelist and Chromium Edge hasn't been whitelisted by default as it has a new user-agent string. The old Edge is fully supported by YouTube, YouTube Music, Google Drive, Google Meet and Google Docs.
It's not entirely clear when the problem first appeared and Google or Microsoft is yet to issue a statement on the problem.
Thanks for the tip, Aditya!