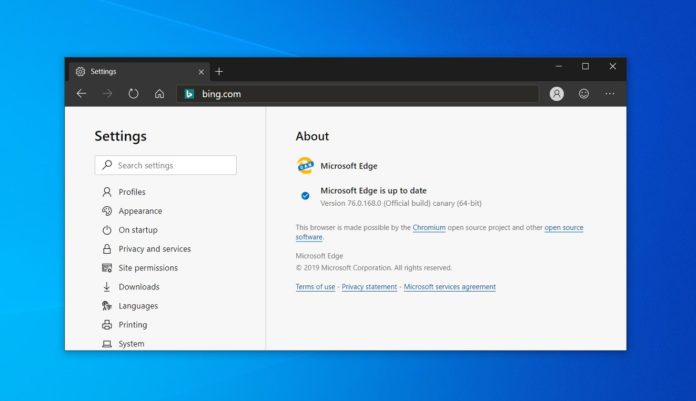 Microsoft is rolling out new updates for both Edge Dev and Canary. The latest update comes with minor changes, fix for an issue that may have resulted in higher CPU usage when the browser was idle, and more.
Microsoft is rolling out Edge Dev Build 76.0.167.0 and Canary 76.0.168.0 with multiple improvements. In the changelog, Microsoft says that the update enables the built-in translator and you can use it to translate any foreign language website to your system language.
Dark mode is now on by default for everyone and you don't have to enable it manually via the flags menu. To see dark mode in Edge, you will need to change your theme settings on Windows or macOS.

Edge is getting support for the keyword search through the address bar. This means when you type a search engine keyword such as Bing into the address bar, you will be reminded to press the tab button to search using the search engine.
"Keyword search is available for all search engines you install or which are automatically detected for you as you browse," the company explains. You can add any website's search engine to Edge from Settings > Privacy and services and directly search that site.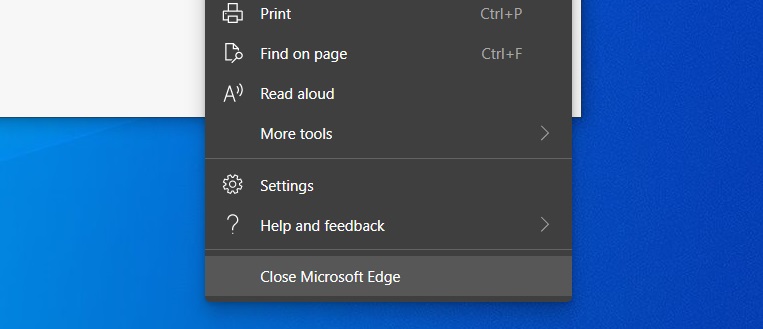 Microsoft is also adding a 'Close Microsoft Edge' button in the menu. The update also improves dark theme in the browser's task manager.
There are various bug fixes included in this release. For instance, Microsoft is fixing an issue that may have caused high CPU usage when the browser is in an idle state. Another bug where the Settings page crashes due to a corrupted user profile has been addressed.
Important note
Microsoft has just announced that the latest Edge Dev update breaks the browser. The company is investigating the reports and you shouldn't update the browser at the moment.
We are currently investigating an issue with our latest Dev branch update that appears to stop some users from launching the browser after updating. We will provide an update as soon as we know more, or once a solution is found. We apologize for any inconvenience this may cause.

— Microsoft Edge Dev (@MSEdgeDev) May 23, 2019
Better dark mode support coming soon
In a forum post, an engineer from Microsoft has confirmed that the dark mode in the new Edge browser will be improved in a future release.
"The design for dark mode is not great at the moment. We would be updating this shortly! Thanks for sharing the feedback," the company said.