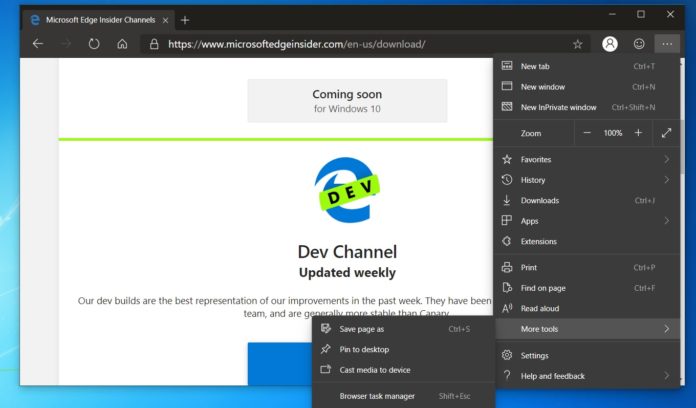 Like Google Chrome, the Microsoft Edge browser is maintained via multiple channels – Canary, Developer, Beta, and Stable. According to Microsoft, the Chromium-powered Edge is updated daily in Canary channel and weekly in Dev channel.
Today, Microsoft has released the second update for Microsoft Edge Dev with multiple improvements and fixes. It's worth noting that the changes introduced in Microsoft Edge Dev are also live in the Canary builds, so many of the changes are valid for both versions.
Microsoft Edge Dev version 75.0.139.1 is rolling out to Windows 10 devices and as per the company, updates will install automatically, but you can always grab it immediately from Edge's Settings > Help and feedback > About Microsoft Edge.
Here are the new features that Microsoft has added to Edge Canary and Dev builds over the past few days.
You can now install Microsoft Edge on devices with Windows 10 32-bit architecture.
The Read Aloud feature is getting better and it now supports more natural sounding voices.
Microsoft has also addressed the following problems associated with Edge:
The update has finally addressed the scaling issues of updates spinner on the About page.
After importing favourites from Internet Explorer, the favourites bar folder will be properly named "Favorites bar" instead of "Links".
Edge now displays a prompt when you attempt to delete multiple history items.
If you download a file and browser is scamming for the virus, you'll still be able to access the "Show in folder" option.
The update fixes a crashing bug when pressing CTRL+SHIFT+M in inPrivate mode.
Fixed a poorly rendered animation when viewing "See all cookies and site data" under site permissions.
Fixed a bug where Microsoft Account credentials were not inherited from Windows 10 until after the first launch.
It also appears that the Edge update has addressed a Facebook scrolling bug.
It's worth noting that Microsoft Edge is still in preview stage and you may notice some other bugs.