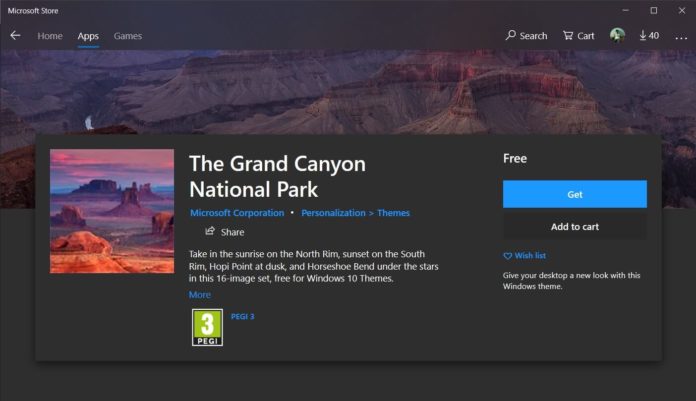 Microsoft's Windows 10 offers various ways to customize the look and feel of the desktop. In Windows 10, the themes, wallpapers and even fonts are available through the Microsoft Store, just like apps or Microsoft Edge Extensions.
You can open Microsoft Store on your PC and look for wallpapers. After downloading the wallpapers, you can find and enable them from Start > Settings > Personalization > Themes.
Microsoft has released yet another wallpaper pack for Windows 10 and you can download it if you are running Creators Update or newer.
The new wallpaper pack is titled 'The Grand Canyon National Park' and as the name suggests, this wallpaper pack includes the North Rim, South Rim, Hopi Point, and Horseshoe Bend in this 16-image set.
In the Microsoft Store listing, the company says that you will find these sceneries in different lighting conditions. For example, the wallpaper pack shows sunset on the South Rim and Horseshoe Bend under the stars. On the other hand, it shows sunrise on the North and Hopi Point at dusk.
The wallpapers included in this package aren't themes and can be used as desktop background only.
To download the wallpapers, you can open Microsoft Store and search for The Grand Canyon National Park. Microsoft Store will display a preview of the type of wallpapers included and supported devices. If you like it, you can click get to begin the download.
You can also find the Microsoft Store listing from here.