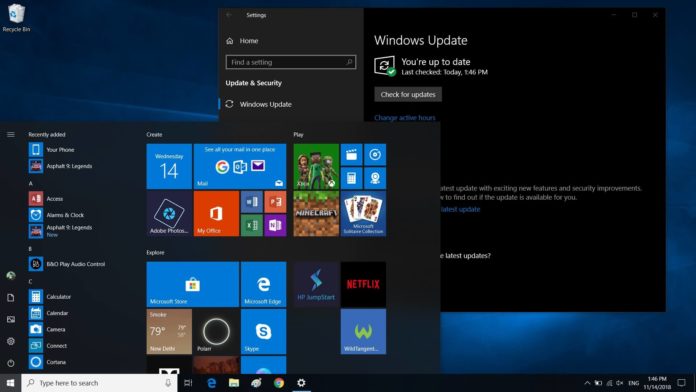 It looks HP has once again started pushing HIDClass driver to its devices, but for some reasons, it fails to install on Windows 10. According to various reports, HP HIDClass driver fails to install with error 0x800703e3 on Windows 10 and the 'retry' button does nothing.
The users have reported the problem at the HP forums and we're also experiencing it on our HP machines.
According to posts at the HP forums and on Twitter, some HP devices are getting error 0x800703e3 when trying to install the latest HP HIDClass update. The error that you may be experiencing looks like the below message:
HP Inc. – HIDClass – 10/30/2018 12:00:00 AM – 2.1.8.1 – Error 0x800703e3
As expected, some users have documented the problem with the new HP update on Twitter. "I have a HP Envy laptop that was supposed to receive HIDClass – 10/30/2018 – 2.1.8.1 but it will not install and gives – Error message 0x800703e3. Is there a planned fix for this? My laptop has the bugs that it fixes and it's very annoying. Please advise," a user wrote in a tweet to HP handle.
@HPSupport I'm getting an error message on an update for my laptop: HP Inc. – HIDClass – 10/30/2018 12:00:00 AM – 2.1.8.1 – Error 0x800703e3 – can you help or direct me to how to fix/install/get rid of this message if its not needed? Thanks.

— The Doug (@dougclose) January 17, 2019
Another user reported the error "HP Inc. – HIDClass – 10/30/2018 12:00:00 AM – 2.1.8.1 – error 0x800703e3′ message appeared on their PCs. "I tried to install but it kept giving me an error so thanks to a troubleshoot I was able to hide it and everything's normal," they wrote in a tweet.
Error 0x800703e3 on Windows 10
By the looks of things, this problem isn't just happening on HP devices running the October 2018 Update but also on PCs running the April 2018 Update (version 1803) or possibly older. Only a subset of consumers appear to be impacted, and everything seems to be linked to a conflict related to HP drivers.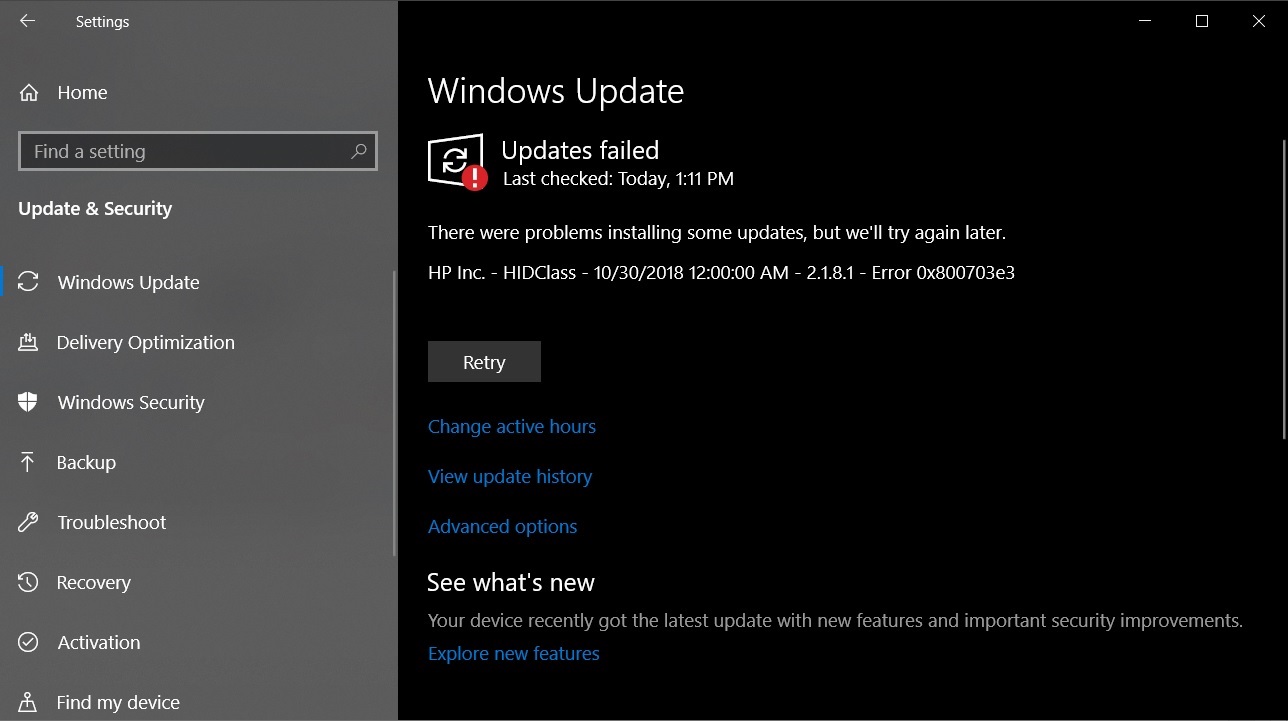 If you're having this problem, there's a workaround that seems to be working for us and several other users. However, keep in mind that this isn't an official fix. Use these instructions at your own risk.
In this article, we walk you through the steps to resolve the HP HIDClass error 0x800703e3 when checking for updates.
How to fix HP HIDClass error 0x800703e3 on Windows 10
Go to the Microsoft Update Catalog and search for 'hp wireless button'. You can also access the page from here.
On the page, find the driver that is supported by your Windows 10 installation. For example, in our case, we downloaded the second driver as our PC is running Windows 10 version 1809 (October 2018 Update).
The downloaded driver will be saved in .cab format.
Open the File Explorer and make a folder anywhere you want.
Open the folder where you have downloaded the driver (.cab file) and left click on the cab file.
Another folder will open where you will find three files, as shown in the screenshot below.
Copy the three files into the folder that you created earlier.
In the folder, right-click on the .info file (Setup Information).
Click install, and a security warning will appear on the screen. Tap on open and you'll get operation completed successfully message.
Open the Settings app, navigate to Windows Update and tap on 'retry'. Windows will normally check for updates and the error will disappear.
Once you complete these steps, the error message will disappear and your HP computer will work as expected.
At the moment, it's not known why the update is failing to install on HP machines, but manually installing the driver from Microsoft Update Catalog addresses the problem. It also appears that this particular update has been pushed out by the company in the past.
As highlighted above, the solution is to simply install the driver manually, and then check for updates in the Settings app.
HP has yet to officially issue a comment on these reports.