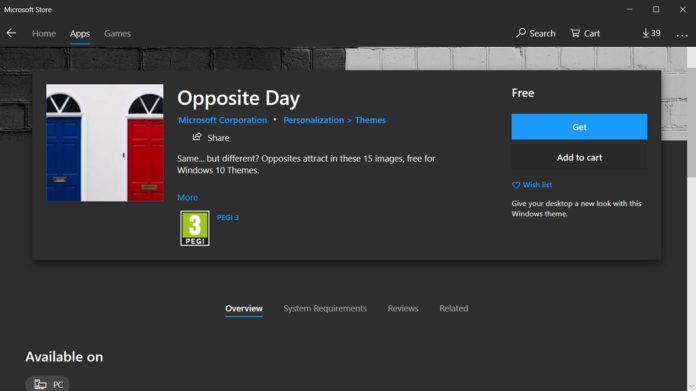 The first set of January 2019 themes is now available for Windows 10 from the Microsoft Store. Earlier this month, the company released not one but four different themes for Windows 10, all of them are available for free via the Microsoft Store.
While the wallpapers are labelled as themes in Store. it's important to understand that they include nothing besides a limited set of wallpapers which can be used as the desktop background.
Opposite Day

Titled Opposite Day, this wallpaper pack has 15 images, available for free in the Microsoft Store. This wallpaper pack shows the opposite look of the objects. For example, there is a wallpaper which shows off a wall which has two doors in blue and red colours
"Same… but different? Opposites attract in these 15 images, free for Windows 10 Themes," the store description reads.
If you're interested, you can grab this wallpaper set from the Microsoft Store here.
Seeing Red

The wallpaper pack 'Seeing Red' has 15 images of cars, cranberries, cardinals, crimson, ruby red and scarlet.
Again, these wallpapers can be set as the desktop background only and you won't get access to new accents or sounds. You can download it from the Store.
Knits and Wool

The winter focused wallpaper set 'Knits and Wool' bring shelves full of skeins, the cozy cables, and highlights the beauty of wool shines in 16 images.
Download this set from the Microsoft Store.
The Butterfly

Microsoft has also released a new wallpaper pack which is titled 'The Butterfly' and it features the beauty of butterflies while they flit, feed, and hatch. Microsoft says that are 20 images which can be applied as the desktop background.
If you're interested, you can go to the Store and search or find it from here.
You can install these themes on devices with Windows 10 October 2018 Update, April 2018 Update and Fall Creators Update.
After downloading the theme, you can put them in use by heading over to Settings > Personalization > Themes. Choose a new theme from the list located at the lower part of the screen and select it to apply.