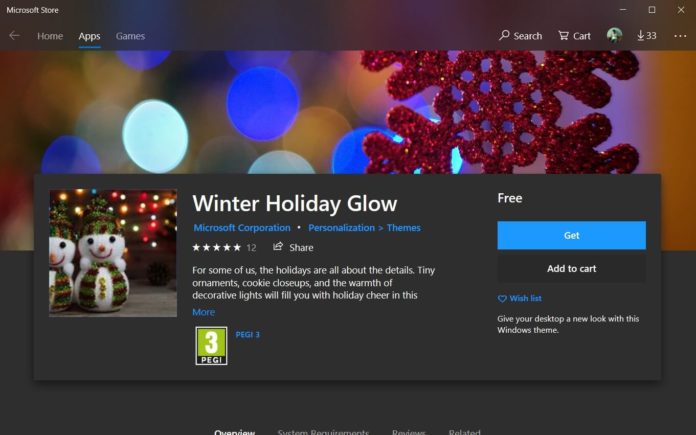 Microsoft has always allowed Windows users to change the look and feel of Windows by selecting various themes. Back in the old days, the users of Windows XP and 7 were also allowed to change wallpapers, colour schemes, sounds and other settings.
With Windows 10 Creators Update, Microsoft brought back Themes with similar customization settings. You can download themes, wallpapers and even fonts from the Microsoft Store for free and customize the appearance of the operating system.
Microsoft releases new wallpapers for Windows 10 almost every month and last week the company published yet another wallpaper 'Winter Holiday Glow'.
It's worth noting that the Winter Holiday Glow is a wallpaper pack and it does not come with any other changes that you'd expect from a theme.
As the name suggests, this wallpaper pack is supposed to display the attractive decorative lights and fill you with holiday cheer. The wallpaper pack has pictures of the tiny ornaments and close-ups of cookie. The wallpaper pack is completely free and it has 9-images for your Windows 10 device.
"For some of us, the holidays are all about the details. Tiny ornaments, cookie closeups, and the warmth of decorative lights will fill you with holiday cheer in this free, 9-image theme for Windows 10," Microsoft Store description reads.
To access Themes or wallpapers, you need to open Settings, click Personalization and then select the Themes tab. The themes page would display thumbnails of all the themes and wallpapers. You'll also find controls for customizing the colour, sound and other functions of the operating system.
You can download the theme from the Microsoft Store here. After downloading the wallpaper from the Store, return to the Themes tab and you'll see the new theme as a thumbnail. Simply tap on the wallpaper thumbnail and the changes will be applied to the desktop.
You will notice that applying the wallpaper pack not only changes the desktop background but also switches the system colour to red.
You can go to the desktop and scroll through the 9-wallpapers set from the right-click menu. Microsoft is also expected to publish Christmas and New Year wallpapers later this month.