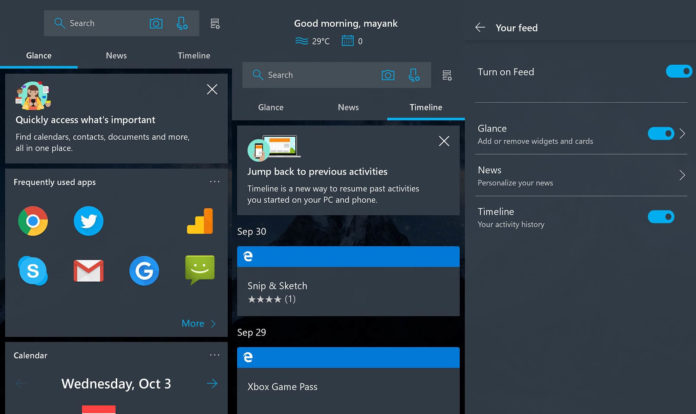 Microsoft Launcher for Android is picking up a big update today with a bunch of new features and improvements that many users are going to like. This update advances Microsoft Launcher to version 5 and adds support for Windows 10 Timeline.
Microsoft Launcher 5 is available for everyone and it comes Timeline integration that should help you access the PC content from your phone.
Timeline is a neat feature that would bring your PC activities to phones. For those unfamiliar, Windows 10 Timeline debuted with April 2018 Update and it creates snapshots of running apps and websites so users can open the activities at any given moment within the next 3 days.
Microsoft Launcher now has a Timeline section that shows the snapshots created from your PC. You will now see activities from the PC and phone in the Timeline section of the Launcher.
"This release is specifically focused on making the Launcher Feed the best place to quickly access your most important things on your phone plus some other minor improvements," Microsoft explains.
Here's the official changelog of what's new in Microsoft Launcher version 5.0:
Feed – Updated Feed navigation for your Glance, News and Timeline tabs. You can now access your Feed settings from the top of your Feed
News – Updated News experience powered by Microsoft News
Timeline on mobile – Activities from your PC and phone now can be seen on your Android phone
Cortana – Use Cortana to send emails with multi-turn emailing. Cortana is now supported in the DE-DE market
Family – Parents can now view their kids' real-time location